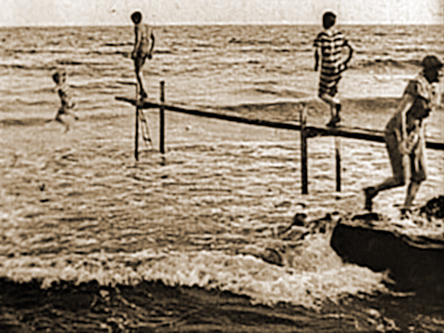 Frame enlargement: Silent Era image collection.


Baignade en mer


Also known as A Dip in the Sea and Swimming in the Sea in the USA
(1895) French
B&W : Short film
Directed by [?] Louis Lumière?

Cast: (unknown)

Société Lumière production; distributed by Société Lumière. / Cinematography by Louis Lumière. / Premiered 21 September 1895 in France. / Cinématographe spherical 1.30:1 format. / The production was shot at Clos-des-Plages at La Ciotat, France. Lumière film number 11.

Documentary: Actuality.

Synopsis: View of boys diving into the surf from a small pier.

Survival status: Print exists.

Current rights holder: (unknown)

Keywords: France: La Ciotat

Listing updated: 18 July 2008.

References: Film viewing : Musser-Emerge pp. 138, 598.

Home video: DVD.