A growing source of silent era film information.
This listing is from The Progressive Silent Film List by Carl Bennett.
Copyright © 1999-2014 by Carl Bennett and the Silent Era Company.
All Rights Reserved.

About This Listing / Report Omissions or Errors in This Listing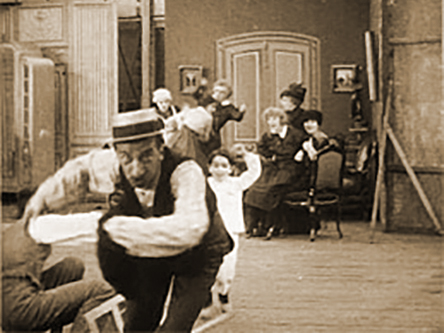 Marcel Lévesque (foreground) and
René Poyen (boy, center).
Frame enlargement: Silent Era image collection.


C'est pour les orphelins


Also known as For the Children in the USA
(1916) French
B&W : Short film
Directed by Louis Feuillade

Cast: Marcel Lévesque [the artist], Musidora [the artist's maid], René Poyen [Bout-de-Zan], Stacia Napierkowska [the teacher], Édouard Mathé [an actor], Yvette Andréyor, Josette Andriot, Renée Bartout, Ellen Baxone, Léon Bernard, Jane Danjou, Suzanne Delvé, Huguette Duflos, Raphaël Duflos, Maria Fromet, Paule Marly, Léonce Perret, Fernand Rivers, Jean Toulout

Société des Etablissements L. Gaumont production; distributed by [?] Société des Etablissements L. Gaumont? / Standard 35mm spherical 1.37:1 format.

Comedy.

Survival status: Print exists.

Current rights holder: (unknown)

Listing updated: 18 April 2008.

References: Website-IMDb.

Home video: DVD.