A growing source of silent era film information.
This listing is from The Progressive Silent Film List by Carl Bennett.
Copyright © 1999-2014 by Carl Bennett and the Silent Era Company.
All Rights Reserved.

About This Listing / Report Omissions or Errors in This Listing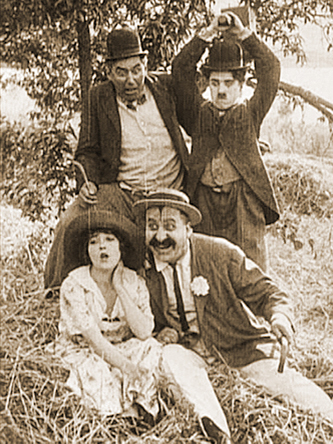 Charles Chaplin and Mack Sennett (standing),
with Mack Swain and Mabel Normand (sitting).
Frame enlargement: Silent Era image collection.


The Fatal Mallet


Also known as Le maillet de Charlot in France : [The Pile Driver], [The Rival Suitors], [Hit Him Again]
(1914) American
B&W : One reel
Directed by Mack Sennett

Cast: Mabel Normand [Mabel], Charles Chaplin [her suitor], Mack Sennett [a rival suitor], Mack Swain [another suitor], Gordon Griffith [the infatuated boy]

The Keystone Film Company production; distributed by Mutual Film Corporation. / Produced by Mack Sennett. Scenario by Charles Chaplin. / No copyright registration. Released 1 June 1914. / Standard 35mm spherical 1.37:1 format. / Working title: The Knockout. [?] Completed or shipped? on 16 May 1914.

Comedy.

Survival status: Print exists [16mm reduction positive].

Current rights holder: Public domain.

Keywords: Bricks - Canes - Parks - Swings - Water

Listing updated: 21 March 2012.

References: Film viewing : Asplund-Chaplin p. ?; Fussell-Normand p. 257; Jacobs-Chaplin p. 135; Lahue-Kops p. 146; Lahue-Mack p. 295 : Website-IMDb.

Home video: DVD.