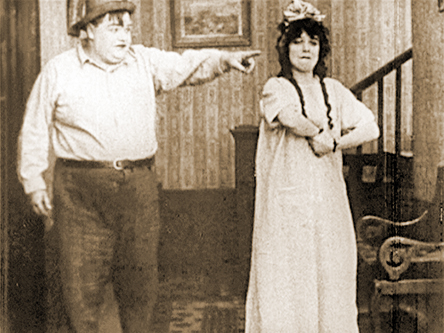 Roscoe Arbuckle and Minta Durfee.
Frame enlargement: Silent Era image collection.


Leading Lizzie Astray


(1914) American
B&W : One reel
Directed by Roscoe Arbuckle

Cast: Minta Durfee [Lizzie], Roscoe Arbuckle [her beau], Mack Swain, George Summerville (Slim Summerville), [?] Nick Cogley?, [?] Edgar Kennedy? [the slicker's driver]

The Keystone Film Company production; distributed by Mutual Film Corporation. / Produced by Mack Sennett. / © 30 November 1914 by The Keystone Film Company. Released 30 November 1914. / Standard 35mm spherical 1.37:1 format. / Working title: The Country Girl. [?] Completed or shipped? on 18 November 1914.

Comedy.

Survival status: Prints exist in the film holdings of Film Preservation Associates; and in private film collections [8mm reduction positives].

Current rights holder: Public domain.

Listing updated: 24 June 2009.

References: Film credits, film viewing : Edmonds-Arbuckle p. 255; Lahue-Kops p. 150; Lahue-Mack p. 297; Lahue-World p. 75.

Home video: DVD.