People active in the silent era and people who keep the silent era alive.
Copyright © 1999-2018 by Carl Bennett and the Silent Era Company.
All Rights Reserved.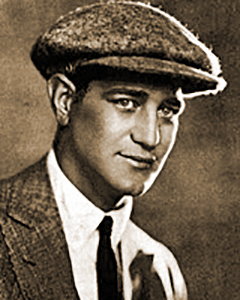 Photograph: Silent Era image collection.
Art Acord
Born 17 April 1890 in Prattsville (now Glenwood), Sevier County, Utah, USA
(some sources list Stillwater, Oklahoma, USA), as Arthemus Ward Acord.
Died 4 January 1931 in Mexico, of cyanide poisoning.
Married actress Edythe Sterling, 1913; divorced, 1916.
Married Edna Nores; divorced.
Married actress Louise Lorraine; divorced, 1928.
Art Acord began in films as a stuntman for the Bison company in 1909. Worked for 101-Bison, The Selig Polyscope Company, Incorporated, New York Motion Picture Company, Kalem Film Manufacturing Company, Jesse L. Lasky Feature Play Company, Incorporated, American Film Company, Incorporated, Associated-Ramona, Kriterion, Fox Film Corporation, Fairbanks, Universal Pictures Corporation, Sameth, Truart, Exhibitors Film and Davis from 1912 through 1929.
Acord fought in World War I and was decorated. Art Acord's exact cause of death is unknown; suicide by cyanide ingestion was never ruled out.
References: Katchmer-Eighty pp. 1-8; McCaffrey-Guide pp. 17-18.