People active in the silent era and people who keep the silent era alive.
Copyright © 1999-2017 by Carl Bennett and the Silent Era Company.
All Rights Reserved.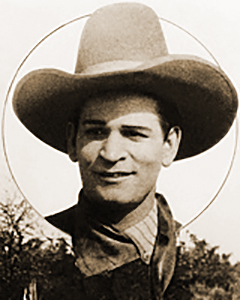 Photograph: Silent Era image collection.
Yakima Canutt
Born 29 November 1895 near Colfax, Washington, USA, as Enos Edward Canutt.
Died 24 May 1986 in North Hollywood, California, USA.
Married Kitty Wilks, 1916; divorced, 1919.
Married Minnie Audrea Rice, 1931; son, Edward 'Tap' Canutt, born 1932; son, Harry Joseph Canutt, born 1937; daughter, Audrea Elaine 'Honey' Canutt, born 1940; until Yakima's death, 24 May 1986.
Yakima Canutt, an experienced rodeo cowboy, began his film career as a stunt performer. In the 1920s, he starred in B-film westerns for low-budget studios. A favorite performer of western fans, Canutt appeared in more than 180 films over the course of his film career, and performed stunt work in more than 220 films.
References: Website-IMDb.