People active in the silent era and people who keep the silent era alive.
Copyright © 1999-2018 by Carl Bennett and the Silent Era Company.
All Rights Reserved.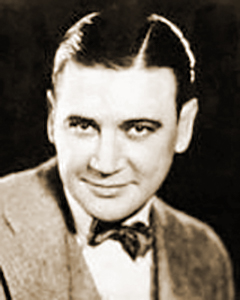 Photograph: Silent Era image collection.
Richard Dix
Born [?] 18 July 1893 or 8 August 1894? in St. Paul, Minnesota, USA, as Ernest Carlton Brimmer.
Died 20 September 1949 in Los Angeles, California, USA, of a heart attack.
Married Winifred Coe, 20 October 1931; daughter, Martha Mary Ellen Dix; divorced, 1933.
Married Virginia Webster, 29 June 1934; sons (twins) Richard Dix Jr. and Robert Dix; one adopted daughter, Sara Sue Dix; until Richard's death, 20 September 1949.
References: Website-Wikipedia.