People active in the silent era and people who keep the silent era alive.
Copyright © 1999-2018 by Carl Bennett and the Silent Era Company.
All Rights Reserved.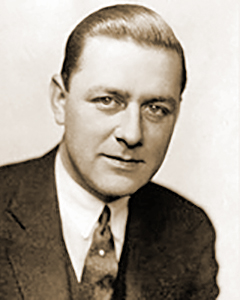 Photograph: Silent Era image collection.
Kenneth Harlan
Born 26 July 1895 in Boston, Massachusetts, USA, as Kenneth Daniel Harlan.
Died 6 March 1967 in Sacramento, California, USA, of an aneurysm.
Son of George W. Harlan and actress Rita W. Harlan. Nephew of actor Otis Harlan.
Married Salome F. Sanborn, 22 July 1915; divorced, 4 March 1920.
Married actress Florence Hart, 26 June 1920; divorced, 14 July 1922.
Married actress Marie Prevost, 14 October 1924; divorced, 12 January 1929.
Married Doris Hilda Booth, 19 May 1930; divorced, 14 December 1931.
Married Phyllis McClure, 9 November 1932; annulled, 15 August 1934.
Married Helen 'Donna' Spelner, 20 August 1934; one child; divorced, 16 August 1946.
Married actress Helene Stanton, 14 July 1949; divorced, 28 December 1953.
Married actress Rhea Walker, 20 September 1957; divorced, 1959.
Married Rosemarie Gonsalves Mirjanian, 5 March 1963; until Kenneth's death, 6 March 1967.
Kenneth Harlan began acting at age seven, appearing on stage and in vaudeville over the ensuing years. Kenneth was a graduate of Saint Francis High School in Brooklyn, New York, and of Fordham University in New York, New York. Harlan reputedly appeared in his first motion picture in 1915, but mainly continued his stage appearances.
Kenneth Harlan began film work in earnest in 1917 for Fine Arts Film Company. He worked for The Universal Film Manufacturing Company, Incorporated (1917-1918), Paralta Plays, Incorporated (1918) and Plaza Pictures (1918), but interrupted his career during World War I to serve in a US Army field artillery unit in France.
After the war, Harlan resumed his motion picture career with vigor (apparently as an independent actor) for the Mary Pickford Company (1919), The Universal Film Manufacturing Company, Incorporated (1919 and 1922), Metro Pictures Corporation (1919-1920 and 1922), First National Pictures, Incorporated (1920 and 1927), Goldwyn Pictures Corporation (1920), Norma Talmadge Film Corporation (1920), Sawyer-Lubin Pictures Corporation (1920), Joseph M. Schenck Productions (1921), Realart Pictures Corporation (1921), Robertson-Cole Pictures Corporation (1921), Roland West Productions (1921), The Vitagraph Company of America (1921 and 1925), Constance Talmadge Productions (1921-1922), Edwin Carewe Productions (1922), Principal Pictures Corporation (1922-1923), Warner Brothers Pictures, Incorporated (1922-1923 and 1925-1926), B.P. Schulberg Productions (1922-1924), Film Booking Offices of America, Incorporated (1923 and 1926), Sacramento Pictures (1923), Banner Productions (1924), Rayart Pictures Corporation (1924), Twin Pictures (1924), Universal Pictures Corporation (1924 and 1926-1929), Associated Arts Corporation (1924-1925), Phil Goldstone Productions (1924-1925), Corinne Griffith Productions (1925), Famous Players-Lasky Corporation (1925), Fox Film Corporation (1925), Sol Lesser Productions (1925), John McCormick Productions (1926), MacFadden True Story Pictures (1926), Columbia Pictures Corporation (1927), Dallas M. Fitzgerald Productions (1927), Tiffany-Stahl Productions (1927), Gotham Productions (1928), Samuel Bischoff Productions (1928) and The Vitaphone Corporation (1929).
Harlan made a successful transition into sound films and continued acting until he retired motion picture work in 1943. Afterwards, Kenneth tried his hand at being an actor's agent and a restaurateur.
References: Website-IMDb; Website-Wikipedia.