People active in the silent era and people who keep the silent era alive.
Copyright © 1999-2018 by Carl Bennett and the Silent Era Company.
All Rights Reserved.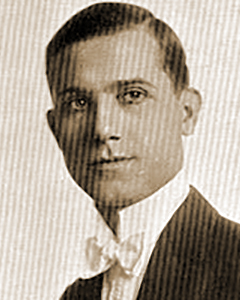 Photograph: Silent Era image collection.
Eddie Lyons
(same as Edward Lyons)
Born 25 November 1886 in Beardstown, Illinois, USA, as Edward Lyons.
Died 30 August 1926 in Pasadena, California, USA.
Married actress Virginia Kirtley.
Eddie Lyons began in motion pictures in 1911. He formed a cinematic partnership with Lee Moran for many short comedy films and a few feature films. Lyons not only acted, but directed, produced and wrote films.
References: Website-IMDb; Website-Wikipedia.