People active in the silent era and people who keep the silent era alive.
Copyright © 1999-2018 by Carl Bennett and the Silent Era Company.
All Rights Reserved.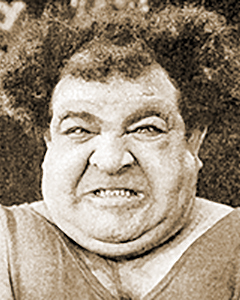 Photograph: Silent Era image collection.
Kalla Pasha
Born 5 March 1879 in Detroit, Michigan, USA, as Joseph T. Rickard.
Died 10 June 1933 in Talmadge, California, USA.
Kalla Pasha began film work in 1919 after a career in vaudeville as a professional wrestler named Hamid Kalla Pasha, nicknamed The Crazy Turk. His film performances were character roles, chiefly as tough guys and wrestlers.
By the early 1930s, Pasha had spent his acting earnings and died a pauper who had been committed for psychiatric care in Mendocino State Hospital.
References: Website-IMDb; Website-Wikipedia.