People active in the silent era and people who keep the silent era alive.
Copyright © 1999-2018 by Carl Bennett and the Silent Era Company.
All Rights Reserved.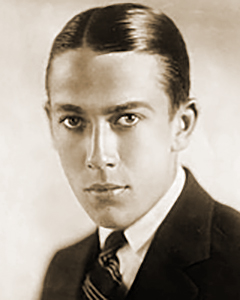 Photograph: Silent Era image collection.
Jack Pickford
Born 18 August 1895 in Toronto, Ontario, Canada, as John Smith.
Died 3 January 1933 in Paris, France, of multiple neuritis.
Brother of actress Mary Pickford and actress Lottie Pickford.
Married actress Olive Thomas, 25 October 1916; until Olive's death, 10 September 1920.
Married actress Marilyn Miller, 30 July 1922; divorced, June 1927.
Married Mary Mulhern, 12 August 1930; until Jack's death, 3 January 1933.
Jack Pickford began motion pictures work as a child actor, due to his sister Mary's stardom. He appeared in Biograph films for director D.W. Griffith, and went on in adulthood with a moderately successful but brief career as a leading man.
References: Whitfield-Pickford pp. 8, 9.