People active in the silent era and people who keep the silent era alive.
Copyright © 1999-2018 by Carl Bennett and the Silent Era Company.
All Rights Reserved.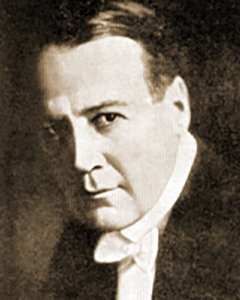 Photograph: Silent Era image collection.
Phillips Smalley
(same as J. Phillips Smalley)
Born [?] 7 August 1875 or 13 June 1881 or 1882? in Brooklyn, New York, USA, as [?] Wendell Phillips Smalley or Phillips Wendell Smalley?
Died [?] 2 May or 13 November? 1939 in Hollywood, California, USA.
Married writer and director Lois Weber, May 1906; divorced.
Married Phyllis Lorraine Ephlin; until Phillips' death, 1939.
Phillips Smalley entered film work in 1911. He and his first wife, Lois Weber, wrote and directed many films for Universal in the 1910s.
References: Website-IMDb; Website-Wikipedia.