People active in the silent era and people who keep the silent era alive.
Copyright © 1999-2018 by Carl Bennett and the Silent Era Company.
All Rights Reserved.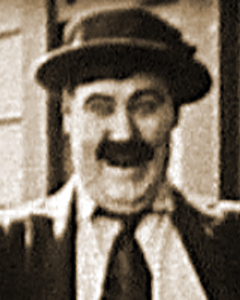 Wayland Trask in Her Torpedoed Love (1917).
Frame enlargement: Silent Era image collection.
Wayland Trask
Born 16 July 1887 in New York, New York, USA, as Wayland Trask, Jr.
Died 18 November 1918 in Hollywood, California, USA, of Spanish influenza.
Wayland Trask began his entertainment career with stage work, but is best remembered for his film work at The Keystone Film Company and Mack Sennett Films Corporation from 1915 through 1918.
References: Website-IMDb; Website-Wikipedia.