People active in the silent era and people who keep the silent era alive.
Copyright © 1999-2018 by Carl Bennett and the Silent Era Company.
All Rights Reserved.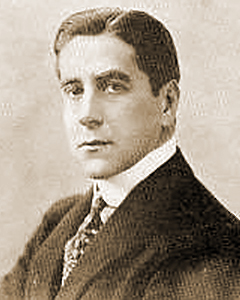 Photograph: Silent Era image collection.
Robert Warwick
Born 9 October 1878 in Sacramento, California, USA, as Robert Taylor Bien.
Died 6 June 1964 in West Los Angeles, California, USA.
Married actress Jospehine Whittell; divorced.
Married Arline Peck; divorced, 1909.
Married Stella Lattimore; until Stella's death, 1960.
Robert Warwick began performing as a singer, and studied music in France. Her acting career began as a Broadway understudy. More stage experience led to motion picture work for World Film Corporation, where he specialized in leading roles.
References: Website-IMDb.