People active in the silent era and people who keep the silent era alive.
Copyright © 1999-2018 by Carl Bennett and the Silent Era Company.
All Rights Reserved.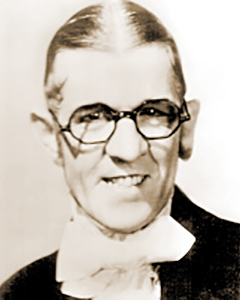 Photograph: Silent Era image collection.
Robert Woolsey
Born 14 August 1888 in Oakland, California, USA.
Died 31 October 1938 in Malibu, California, USA, of kidney failure.
Married exotic dancer Mignone Park Reed, 1917; until Robert's death, 31 October 1938.
Robert Woolsey is best remembered for his screwball RKO comedy features of the 1930s with partner Bert Wheeler. Wheeler and Woolsey made their film debuts in the full-sound feature Rio Rita (1929) at the end of the silent era, reprising their Broadway roles.
References: Website-IMDb.