People active in the silent era and people who keep the silent era alive.
Copyright © 1999-2018 by Carl Bennett and the Silent Era Company.
All Rights Reserved.
Photograph: Silent Era image collection.
May Allison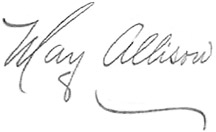 Born 14 June 1895 in Rising Fawn, Georgia, USA.
Died 27 March 1989 in Bratenahl, Ohio, USA, of respiratory failure.
Married actor Robert Ellis, 25 November 1920; divorced, 5 December 1923.
Married film journalist James R. Quirk, 1926; until James' death, 1 August 1932.
Married Colonel J.L. Stephenson; divorced.
Married Carl Norton Osborne, [?] late 1930s?; until Carl's death, 4 May 1982.
May Allison began her film career in 1915, appearing in A Fool There Was (1915) for William Fox Vaudeville Company (which soon became Fox Film Corporation). May retired from film acting in 1927. After the death of her husband, James Quirk, she assumed his job as editor of Photoplay Magazine.
References: Website-IMDb.