People active in the silent era and people who keep the silent era alive.
Copyright © 1999-2018 by Carl Bennett and the Silent Era Company.
All Rights Reserved.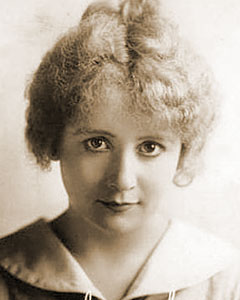 Photograph: Silent Era image collection.
Bessie Barriscale
Born 30 September 1884 in Hoboken, New Jersey, USA, as Elizabeth Barry Scale.
Died 30 June 1965 in Kentfield, California, USA.
Cousin of actress Edith Taliaferro and actress Mabel Taliaferro.
Married actor Howard C. Hickman; one son.
Bessie Barriscale began in films in 1913, and worked for New York Motion Picture Company and Triangle Film Corporation, among other studios, until her screen retirement in 1934.
References: Website-IMDb.