People active in the silent era and people who keep the silent era alive.
Copyright © 1999-2018 by Carl Bennett and the Silent Era Company.
All Rights Reserved.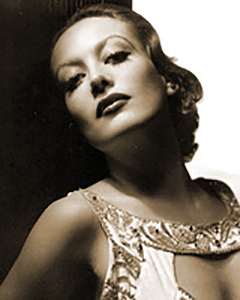 Photograph: Silent Era image collection.
Joan Crawford
Born 23 March 1905 in San Antonio, Texas, USA, as Lucille Fay LeSueur.
Died 10 May 1977 in New York, New York, USA.
Married James Welton, 1923; divorced, 1924.
Married actor Douglas Fairbanks Jr., 3 June 1929 in New York, New York; divorced, 1933.
Married actor Franchot Tone, 11 October 1935, in New Jersey; divorced, 1939.
Adopted daughter, Christina (born 11 June 1939; adopted 1940). Adopted son, Christopher Crawford (born April 1941; returned to biological mother in 1942).
Married actor Phillip Terry, 21 July 1942, at Hidden Valley Ranch, Ventura County, California, USA;
adopted son, Christopher Terry (born 15 October 1943; adopted late 1943; died 22 September 2006 in Greenport, New York, USA, of cancer); divorced, 1946.
Adopted twin daughters, Cathy Crawford and Cynthia Crawford (born 13 January 1947 in Dyersburg, Tennessee, USA; adopted June 1947).
Married business executive Alfred N. Steele, 10 May 1955, in Las Vegas, Nevada, USA; until Alfred's death, 19 April 1959.
Joan Crawford began show business as a dancer, soon signing a motion picture contract with Metro-Goldwyn-Mayer Pictures Corporation in 1925, with whom she stayed into the 1930s. Her debut film was Pretty Ladies (1925), and she was loaned out to Harry Langdon Corporation to make Tramp, Tramp, Tramp (1926) and also to Cosmopolitan Pictures Corporation in 1928. Crawford was featured early with stars Lon Chaney, John Gilbert, Tim McCoy and William Haines (who became a lifelong friend) before her breakout role in Our Dancing Daughters (1928).
References: Website-Wikipedia.