People active in the silent era and people who keep the silent era alive.
Copyright © 1999-2018 by Carl Bennett and the Silent Era Company.
All Rights Reserved.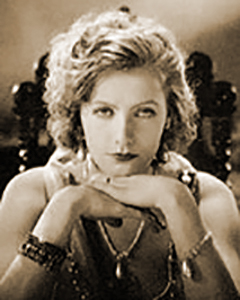 Photograph: Silent Era image collection.
Greta Garbo


Born 18 September 1905 in Stockholm, Sweden, as Greta Lovisa Gustafson.
Died 15 April 1990 in New York, New York, USA, of pneumonia.
References: Website-IMDb.
Book : Garbo by Barry Paris
[Film Daily, 8 July 1925, page 1] Foreigners Arrive / Greta Garbo, prominent player of Sweden, and Mauritz Stiller, director, of the same country, have arrived in New York to join Metro-Goldwyn-Mayer. They will remain at the Commodore for two weeks and then go to the Coast.