People active in the silent era and people who keep the silent era alive.
Copyright © 1999-2018 by Carl Bennett and the Silent Era Company.
All Rights Reserved.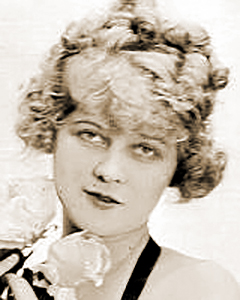 Photograph: Silent Era image collection.
Wanda Hawley
(same as Wanda Petit)
Born 30 July 1895 in Scranton, Pennsylvania, USA, as Selma Wanda Pittack.
Died 18 March 1963 in Los Angeles, California, USA.
Married Allen Burton Hawley; divorced, 1922.
Wanda Hawley began film work in 1917, appearing in more than 80 films over the next 15 years, including The Affairs of Anatol (1921), The Young Rajah (1922), The Man from Brodney's (1923), Smouldering Fires (1924) and Graustark (1925). Hawley retired from film work in 1932 after a run of diminishing roles.
References: Website-IMDb.