People active in the silent era and people who keep the silent era alive.
Copyright © 1999-2018 by Carl Bennett and the Silent Era Company.
All Rights Reserved.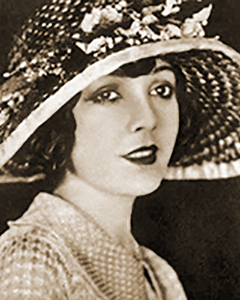 Photograph: Silent Era image collection.
Lila Lee
Born 25 July 1901 in Union Hill, New Jersey, USA, as Augusta Wilhelmena Fredericka Appel.
Died 13 November 1973 in Saranac Lake, New York, of a stroke.
Married actor James Kirkwood in 1923; son, James Kirkwood Jr., born 22 August 1924; divorced 1931.
Married Jack R. Peine in 1934; divorced 1935.
Married John E. Murphy in 1944; divorced 1949.
Lila Lee began her motion picture career in 1916 for the Jesse L. Lasky Feature Play Company, Incorporated. She made several film throughout the silent era, and continued well into the golden era.
References: Website-IMDb.