People active in the silent era and people who keep the silent era alive.
Copyright © 1999-2018 by Carl Bennett and the Silent Era Company.
All Rights Reserved.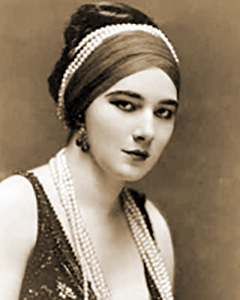 Photograph: Silent Era image collection.
Nita Naldi


Born 1 April 1897 in New York, New York, USA, as Anita Donna Dooley.
Died 17 February 1961 in the Hotel Wentworth in New York, New York, USA, of a heart attack.
Nita Naldi began entertainment work as a Ziegfeld girl on Broadway. She soon turned to motion pictures and made her mark in a series of roles that made good use of her dark, exotic looks. Among Nita Naldi's most-famous films are Dr. Jekyll and Mr. Hyde (1920), Blood and Sand (1922), The Ten Commandments (1923) and Cobra (1925).