People active in the silent era and people who keep the silent era alive.
Copyright © 1999-2018 by Carl Bennett and the Silent Era Company.
All Rights Reserved.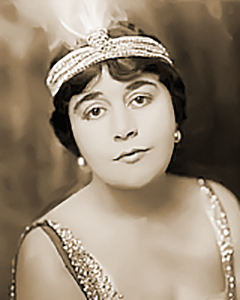 Photograph: Silent Era image collection.
Virginia Pearson


Born 7 March 1886 in Anchorage, Kentucky, USA, as Virginia Belle Pearson.
Died 6 June 1958 in Hollywood, California, USA, of uremic poisoning.
Married actor Sheldon Lewis, 191?; until Sheldon's death, May 1958.
Virginia Pearson began her film career in the 1910s. She was a prominent star until Pearson and Lewis were forced to declare bankruptcy in 1924. Among her best-known films is The Phantom of the Opera (1925). She continued film acting until her screen retirement in 1932.
References: Website-IMDb.