People active in the silent era and people who keep the silent era alive.
Copyright © 1999-2018 by Carl Bennett and the Silent Era Company.
All Rights Reserved.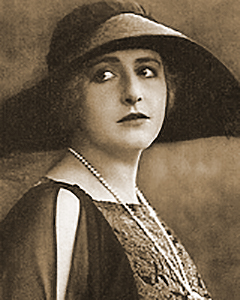 Photograph: Silent Era image collection.
Henny Porten
Born 7 January 1890 in Magdeburg, Germany, as Frieda Ulricke Porten
Died 15 October 1960 in (West) Berlin, Germany.
Married director Curt A. Stark; until Curt's death, 2 October 1916.
Married Wilheim von Kaufmann; until Wilheim's death, 21 October 1959.
Henny Porten appeared in her first film in 1906, and became one of the leading German film actresses in the silent era. At the peak of her career, she appeared in films directed by Ernst Lubitsch, G.W. Pabst and E.A. Dupont.
References: Website-IMDb.