People active in the silent era and people who keep the silent era alive.
Copyright © 1999-2018 by Carl Bennett and the Silent Era Company.
All Rights Reserved.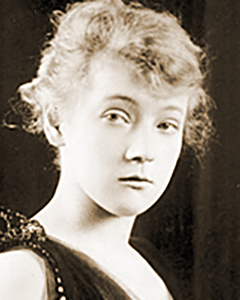 Photograph: Silent Era image collection.
Claire Whitney
Born 6 May 1890 in New York, New York, USA.
Died 27 August 1969 in Los Angeles, California, USA.
Married actor John Sunderland, December 1917.
Married actor Robert Emmett Keane.
Claire Whitney began her acting career on the stage, and made her first film in 1913 for Solax Film Corporation. She continued to make films predominantly at Fox Film Corporation through 1921, when she temporarily left motion pictures until appearing in The Great Gatsby (1926), her final silent film. Whitney returned to film work in 1931, continuing sporatically until she appeared in many films from 1939 through 1949, at which time she retired from the film industry.
References: Website-IMDb.