People active in the silent era and people who keep the silent era alive.
Copyright © 1999-2018 by Carl Bennett and the Silent Era Company.
All Rights Reserved.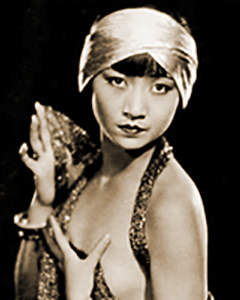 Photograph: Silent Era image collection.
Anna May Wong
Born 3 January 1905 in Los Angeles, California, USA, as Wong Liu Tsong.
Died 2 February 1961 in Santa Monica, California, USA, of heart and liver failure.
Cousin of cinematographer James Wong Howe.
Anna May Wong was the first Chinese-American actress to attain any prominence in cinema. Born in Los Angeles' Chinatown in 1905, she was literally a child of American movies who loved watching film crews shoot in Chinatown streets. She made her film acting debut in 1919, among five hundred other extras in The Red Lantern (1919), a big-budget Box Rebellion extravaganza starring Alla Nazimova. She worked steadily in small roles, playing a bit in Sessue Hayakawa's The First Born (1921) and earned her first credit as Lon Chaney's abused wife in Bits of Life (1921) before starring in The Toll of the Sea (1922), a Chinese variation of the Madame Butterfly tale and an early Technicolor film.
Swashbuckler superstar Douglas Fairbanks saw her in the little maternal melodrama and immediately cast her as the 'Mongolian Slave Girl,' in his Arabian Nights fantasy The Thief of Bagdad (1924). The only Chinese-American featured player of the silent era, she was consigned to interludes as a specialty dancer and/or decorative vamp bits in the many forbidden East adventures and Chinatown mysteries: Drifting (1923), Peter Pan (1924), Old San Francisco (1927), Mr. Wu (1927), The Devil Dancer (1927), The Streets of Shanghai (1927), The Chinese Parrot (1927), The Crimson City (1928) and Across to Singapore (1928). Many of her silent era films are lost. Outside the Law (1920), The Toll of the Sea, The Thief of Bagdad, Peter Pan, The Yankee Clipper (1927), and Piccadilly (1929) are currently on DVD and VHS.
Frustrated with Hollywood's stereotyping and competition for diminishing Oriental roles, she fled to Europe in 1928. Her lesser known Asian contemporaries, Etta Lee, Lotus Long and Toshia Mori faired little better under the studio casting system. In Berlin, she was top-billed in both Schmutziges Geld [Show Life / Song] (1928) and Großstadtschmetterling [City Butterfly] (1929). In Britain, she filmed the trilingual German, French and British production of The Flame of Love (1930). German émigré, E.A. Dupont directed her final silent film Piccadilly (1929). Although billed third in the credits, Wong stole the backstage melodrama from nominal costars Gilda Grey and Jameson Thomas in what critics considered to be her best British film.
She made her Broadway debut in Edgar Wallace's melodrama, On the Spot, in the fall of 1930. Returning to Hollywood in May 1931, she starred as Fu Manchu's daughter in The Daughter of the Dragon (1931) with Sessue Hayakawa as her love interest. Her next picture and best-remembered role, as "Hui Fei" the archetypal China Doll/Dragon Lady, in the Josef von Sternberg classic Shanghai Express (1932) would bring her screen immortality.
Wong was rejected for the role of Olan in The Good Earth (1936) in one of Hollywood's most notorious casting disputes. Austrian import Luise Rainer played the role and won the 1937 Best Actress Oscar.
Anna May Wong went into semi-retirement in 1943, not appearing again until a minor role in the minor film noir, Impact (1949), some television guest spots, and finally as Lana Turner's housekeeper in Portrait in Black (1960).
Anna May Wong died in 1961 but remains the most legendary of Hollywood's Asian actresses.
— Biography by Joseph Worrell
References: Website-IMDb.