People active in the silent era and people who keep the silent era alive.
Copyright © 1999-2018 by Carl Bennett and the Silent Era Company.
All Rights Reserved.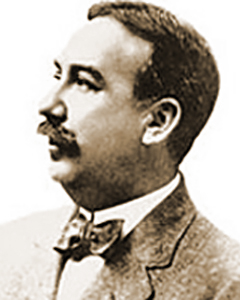 Photograph: Silent Era image collection.
Edwin S. Porter
Born 21 April 1870 in Connellsville, Pennsylvania, USA, as Edwin Stratton Porter.
Died 30 April 1941 in New York, New York, USA.
Edwin S. Porter was a mechanically-minded man in his twenties when we began working for the Edison Manufacturing Company, quickly enlisted to act as projectionist for the earliest Edison theatrical film presentations. In 1898, he began as a cameraman for Edison shooting actualities. He soon developed his cinematic senses and began shooting short dramas and comedies for Edison. In the 20th century, he produced his best-known film, the seminal The Great Train Robbery (1903). Considered generally to be the first motion picture innovator, Porter's films from this period sought to tell stories and develop a cinematic vocabulary that audiences could learn, understand and accept. Porter continued to make several well-known films for Edison throughout the decade.
With partners Joseph Engel and William Swanson, Porter established the Rex Film Company in 1909, and with partners Engel and Fred J. Balshofer established the short-lived Defender Film Company in 1910. In the latter years of his film career, Porter directed James O'Neill in The Count of Monte Cristo (1913) and Mary Pickford in In the Bishop's Carriage (1913), Hearts Adrift (1914), A Good Little Devil (1914), Tess of the Storm Country (1914) and Such a Little Queen (1914) for Famous Players Film Company. By this time, much of his cinematic method was considered stiff and mechanical in an industry transformed again by D.W. Griffith along with other, younger directors, and Porter directed his last films in 1915.
References: Website-IMDb.