People active in the silent era and people who keep the silent era alive.
Copyright © 1999-2018 by Carl Bennett and the Silent Era Company.
All Rights Reserved.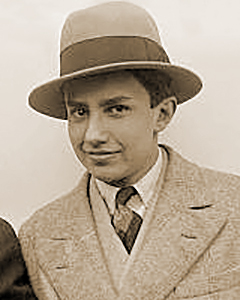 Photograph: Silent Era image collection.
Carl Laemmle Jr.
Born 28 April 1908 in Chicago, Illinois, USA, as Julius Laemmle.
Died 24 September 1979 in Los Angeles, California, USA, of a stroke.
Son of executive Carl Laemmle Sr.
Cousin of actress and dancer Carla Laemmle.
Carl Laemmle Jr. was born to motion picture executive Carl Laemmle Sr. and mother Recha Laemmle at a time when his father was operating theatres in the American Midwest and running a film distribution businesses. Carl Laemmle Sr. soon formed the Independent Moving Pictures Company, Incorporated [IMP], which merged with several other film production companies to create The Universal Film Manufacturing Company, Incorporated. Having grown up in the business, young Julius Laemmle took the professional name Carl Laemmle Jr. and joined his father's company, which was now known as Universal Pictures Corporation. With the departure of highly-accomplished production executive Irving Thalberg in the early 1920s, the door was open for a little nepotism at Universal. Laemmle stepped in and was given production management control of several Universal productions.
Laemmle assumed production control of Universal in 1928 (at 20 years old) but did not have the artistic or business acumen of Irving Thalberg or his father, respectively, and was soon spending more on film production than could be recouped during the Depression. Both Carl Laemmle Sr. and Carl Laemmle Jr. were removed from control of Universal in 1936.
References: Website-Wikipedia.