Reviews of silent film releases on home video.
Copyright © 1999-2017 by Carl Bennett
and the Silent Era Company.
All Rights Reserved.
The Blot
(1921)
Director Lois Weber's most-famous film, The Blot (1921), is a drama of small-town poverty in an academic family, and a star-crossed love triangle.
Coming on a little wolfish at first, carefree student Phil West (Louis Calhern) is smitten with a professor's daughter, Amelia Griggs (Claire Windsor), all the while pursued himself by jealousy-blinded Juanita (Marie Walcamp). Amelia is not short on devotees, however. Not only has she caught Phil's eye, she has captured the hearts of a young minister and the neighbor boy. The shame of a meagre existence tears at the Griggs family, but human nature rises and Phil comes to see his ne'er-do-well friends with different eyes as he becomes familiar with the humble, working-class people surrounding the Griggs family.
Weber's story touches upon the hierarchy of status within class divisions, both humble and pretentious, while driving home the message that it is a blot on American society that teachers and clergy — those who feed our minds and souls — are so meagerly paid. While Weber focused on college teachers in the early 1920s, we feel she would today champion the under-paid elementary school teachers of America. — Carl Bennett
The Milestone Collection
2003 DVD edition

The Blot (1921), black & white, 79 minutes, not rated.

Milestone Film & Video, distributed by Image Entertainment,
ID1968MLSDVD, UPC 0-14381-19682-5.
Full-frame 4:3 NTSC, one single-sided, single-layered DVD disc, Region 1, 6 Mbps average video bit rate, 224 kbps audio bit rate, Dolby Digital 2.0 stereo sound, English language intertitles, no foreign language subtitles, 10 chapter stops, standard DVD keepcase, $24.99.
Release date: 9 December 2003.
Country of origin: USA

Ratings (1-10): video: 7 / audio: 7 / additional content: 5 / overall: 7.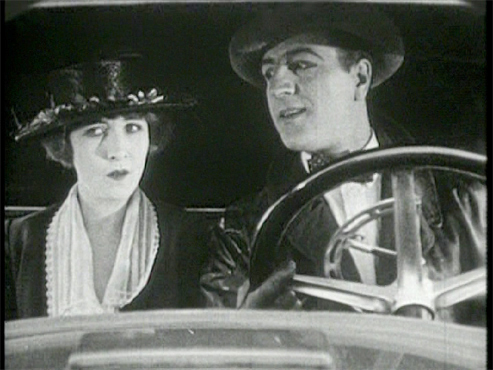 This critically-acclaimed drama follows Lois Weber's Too Wise Wives (1921) (which was released on the out-of-print The Origins of Film DVD boxset) onto DVD home video. The edition was prepared by the late David Gill and Kevin Brownlow of Photoplay Productions and features a new chamber orchestra music score composed and conducted by Jim Parker.
The video transfer for this edition has utilized the UCLA Film and Television Archive restoration print, which appears to be compiled from more than one source print — one appears to be a good 35mm print (coarse, a bit contrasty and well-worn), the other a very-good 35mm print (broad range of greytones but a little soft in image detail, possibly indicating a duplicate positive, and at times greyed out) which has been utilized for the majority of the presentation. A very few times, shadowy ghosts appear to the right of strong image highlights, as in the shot beginning at 25:24 into the disc and in some of the intertitles, which may indicate an older analog video master. In reevaluating the disc on high-definition equipment, we stand by original our grading of the video content.
Having seen the film before only in a shoddly-produced VHS edition, this Milestone release of the Photoplay Productions edition of The Blot is quite an improvement and is recommended.
USA: Click the logomark to purchase this Region 1 NTSC DVD edition from Amazon.com. Your purchase supports the Silent Era website.
Canada: Click the logomark to purchase this Region 1 NTSC DVD edition from Amazon.ca. Your purchase supports the Silent Era website.
This Region 1 NTSC DVD edition is also available directly from MILESTONE FILMS.
Grapevine Video
2012 DVD edition

The Blot (1921), black & white, 98 minutes, not rated.

Grapevine Video, no catalog number, unknown UPC number.
Full-frame 4:3 NTSC, one single-sided, single-layered DVD-R disc, Region 0, ? Mbps average video bit rate, ? kbps audio bit rate, Dolby Digital 2.0 stereo sound, English language intertitles, no foreign language subtitles, chapter stops, standard DVD keepcase, $14.95.
Release date: 14 April 2012.
Country of origin: USA