Reviews of silent film releases on home video.
Copyright © 1999-2018 by Carl Bennett
and the Silent Era Company.
All Rights Reserved.

The
Burning Soil
(1922)

Released nearly concurrently with his film Nosferatu (1922), director F.W. Murnau's multilayered tale of simple agrarian life, class conflict, unrequited love, ambition, betrayal and greed stars Eugen Klöpfer, Lya de Putti, Werner Krauss and Alfred Abel.

Old Rog (Werner Krauss) lays dying. At his bedside is faithful son Peter (Eugen Klöpfer), but the father is waiting for the arrival of his other son Johannes (Vladimir Gajdarov). Arriving too late, Johannes continues his inner struggle to become something more than a peasant farmer's son.

Meanwhile, an ancient tale of a treasure of oil deep in the ground of Devil's Field obsesses Count Rudenberg (Eduard von Winterstein), and he attempts to manage the stone cold relationship between his jaded daughter, Gerda (Lya de Putti), and wealthy Ludwig von Lellewel (Alfred Abel).

When Johannes seeks lodging at the Rudenberg estate, rather than stay at the family farm, he develops a friendly relationship with Gerda, and one day he overhears the confirmation of oil deposits in the Devil's Field that the count has been waiting for. Drawing up the count's last will, Johannes is privy to the count's plan to leave Devil's Field to his second wife, Helga (Stella Arbenina), and his existing fortune to Gerda. Transferring his attentions to Helga, the ambitious Johannes schemes to control and develop the Devil's Field.

A film in the Murnau canon that is not usually seen nor discussed, The Burning Soil cannot be overlooked as an effective condemnation of industrial greed and a validation of the hard but rewarding agrarian life — an infrequent but reoccurring Murnau theme.

The able cast is good across the boards, led by Gajdarov and Klöpfer. Lya de Putti is striking, as is usual, as the cynical ice princess. — Carl Bennett
Grapevine Video
2010 DVD edition

The Burning Soil (1922), color-toned black & white and color-tinted black & white, 79 minutes, not rated.

Grapevine Video, no catalog number, UPC 8-42614-10373-5.
One single-sided, single-layered, Region 0 NTSC DVD-R disc, 1.33:1 aspect ratio image in full-frame 4:3 (720 x 480 pixels) interlaced scan MPEG-2 format, ? Mbps average video bit rate, ? kbps audio bit rate, Dolby Digital 2.0 stereo sound, German language intertitles, permanent English language subtitles, 12 chapter stops; standard DVD keepcase, $16.95.
Release date: 15 January 2010.
Country of origin: USA

Ratings (1-10): video: 6 / audio: 5 / additional content: 0 / overall: 6.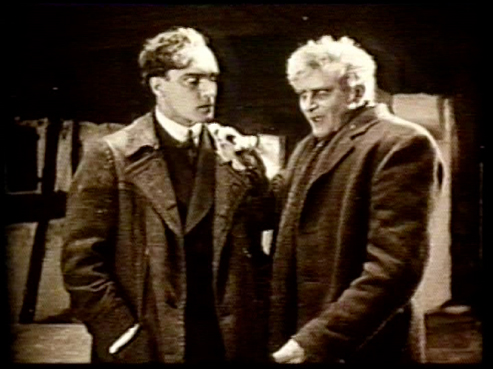 This DVD-R edition, originally prepared for Grapevine Video release on VHS videotape in 2001, has been mastered from an analog videotape duplicate of a video transfer of a 35mm reduction print. The full-frame transfer runs faster than natural speed, and the video duplicate (likely a PAL VHS videocassette) is of a slightly lower resolution than commonly found on DVD, causing some fluctuations in the intertitles and subtitles type.
The color-toned and color-tinted source print appears to be a restoration, as the German language intertitles have been reset in a modern type. The print is quite flecked with dust in a few shots, with a normal amount of speckling, emulsion scuffing, frame jitters, and moderate exposure fluctuations persistent throughout. Deep shadows are plugged up, but the remaining range of colortones are well-balanced with reasonably intact highlight detail. On a high-definition monitor, there will be no missing the fine crosshatch pattern of pixels throughout the picture — most prevalent in the middle tones.
The film is accompanied by an orchestral music score compiled from preexisting recordings.
While far from perfect, and there is considerable room for improvement, this edition of The Burning Soil is currently the only known edition on DVD home video and is acceptable viewing until a better edition comes along.
This Region 0 NTSC DVD-R edition is available directly from GRAPEVINE VIDEO.