Reviews of silent film releases on home video.
Copyright © 1999-2018 by Carl Bennett
and the Silent Era Company.
All Rights Reserved.
The Captive
(1915)
This rarely-seen Cecil B. DeMille film of the Balkan Wars stars Blanche Sweet and House Peters as opposing Montenegro-Turkish people who come to a mutual understanding and to love. Gerald Ward, Page Peters, Jeanie Macpherson, Theodore Roberts, William Elmer and Marjorie Daw provide support.
When Sonya Martinovich (Sweet) learns of her brother's wartime death, the government gives her a Turkish prisoner of war, Mahmud Hassan (Peters), to assist in tilling the fields of her farm. Hassan, a previously privileged nobleman, learns to endure manual labor and earns the respect of Sonia and the friendship of her younger brother.
Trouble ensues when Turkish forces capture the neighboring small town and take the Martinovich farm. The faithful Hassan defends the honor of Sonia and protects her brother against a small troop of Turks. Soon the town is retaken by Montenegrin troops and order restored, followed by an armistice. Given his freedom to return home, Hassan leaves. When marauding pillagers burn their farm house, Sonia and her brother are left destitute. But, you know how it is — these things have a way of working themselves out and all is good with the world.
Jeanie Macpherson, who would quit acting to become DeMille's long-time scripting collaborator, is seen in the film as the Montenegrin woman who has amorous designs on Peters, who himself spends an inordinate amount of time with his hands in his pants. — Carl Bennett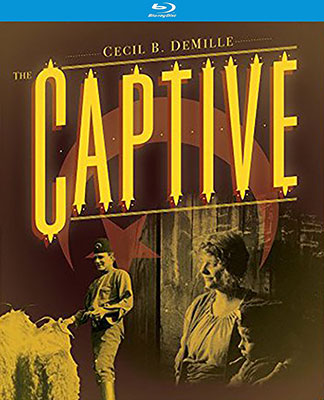 Olive Films
2016 Blu-ray Disc edition

The Captive (1915), color-tinted black & white and black & white, 51 minutes, not rated.

Olive Films, OF1270, UPC 8-87090-12701-1.
One single-sided, single-layered, Region A Blu-ray Disc, 1.33:1 aspect ratio image in pillarboxed 16:9 (1920 x 1080 pixels) progressive scan AVCHD MPEG-4 format, ? Mbps average video bit rate, ? kbps audio bit rate, DTS-HD Master Audio 2.0 stereo sound, English language intertitles, no foreign language subtitles, chapter stops; standard BD keepcase, $24.95.
Release date: 13 September 2016.
Country of origin: USA

Ratings (1-10): video: 9 / audio: 8 / additional content: 0 / overall: 8.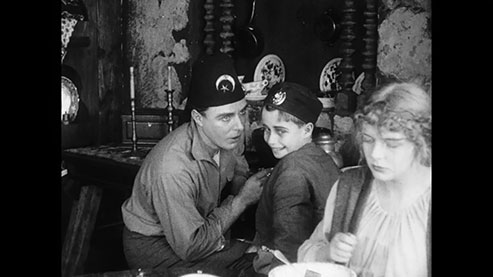 This Blu-ray Disc edition has been mastered in high-definition from a partially color-tinted original 35mm film print, possibly the one held by the Library of Congress. The source print is clear and reasonably free of speckling, dust and other flaws. Really a pleasant viewing experience, we wish that all silent film presentations could look this good on home video.
The film is accompanied by a music score composed by Lucy Duke and performed on string instruments by Rachel M. Meyer.
This is our recommended home video edition of the film. You won't be disappointed.
USA: Click the logomark to purchase this Region A Blu-ray Disc edition from Amazon.com. Your purchase supports the Silent Era website.
Canada: Click the logomark to purchase thisa Region A Blu-ray Disc edition from Amazon.ca. Your purchase supports the Silent Era website.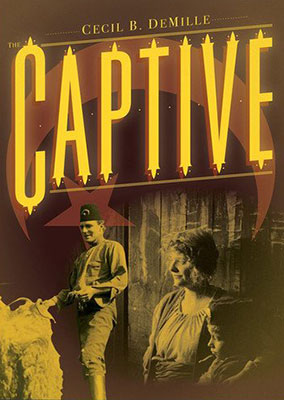 Olive Films
2016 DVD edition

The Captive (1915), color-tinted black & white and black & white, 51 minutes, not rated.

Olive Films, unknown catalog number, UPC 8-87090-12691-5.
One single-sided, single-layered, Region 1 NTSC DVD disc, 1.33:1 aspect ratio image in full-frame 4:3 (720 x 480 pixels) interlaced scan MPEG-2 format, ? Mbps average video bit rate, ? kbps audio bit rate, Dolby Digital 2.0 stereo sound, English language intertitles, no foreign language subtitles, chapter stops; standard DVD keepcase, $19.95.
Release date: 13 September 2016.
Country of origin: USA