Reviews of silent film releases on home video.
Copyright © 1999-2018 by Carl Bennett
and the Silent Era Company.
All Rights Reserved.
Accidentally
Preserved
Volume 2
(1919-1928)
Contents: Charley on the Farm (1919), Why Wild Men Go Wild (1920), Helter Skelter (19??), Sherlock's Home (1924), Christmas Seals Film (1925), The Little Pest (1927), Papa's Boy (1927), Cook, Papa, Cook (1928) and How Jimmy Won the Game (1928).
This collection of mostly short comedies has been produced from 16mm reduction prints held by Ben Model.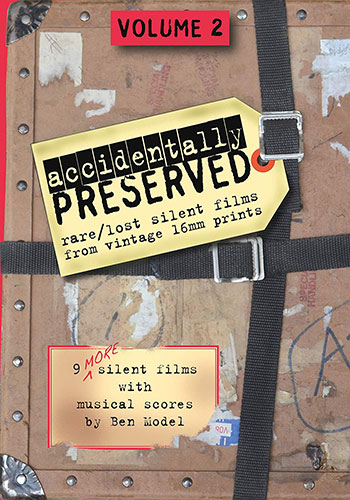 Undercrank Productions
2014 DVD edition

Accidentally Preserved, Volume 2 (1919-1928), black & white, 104 minutes total, not rated,
including Charley on the Farm (1919), black & white, 10 minutes, not rated, Why Wild Men Go Wild (1920), black & white, 12 minutes, not rated, Helter Skelter (19??), black & white, 8 minutes, not rated, Sherlock's Home (1924), black & white, 21 minutes, not rated, Christmas Seals Film (1925), black & white, 3 minutes, not rated, The Little Pest (1927), black & white, 10 minutes, not rated, Papa's Boy (1927), black & white, 16 minutes, not rated, Cook, Papa, Cook (1928), black & white, 9 minutes, not rated, and How Jimmy Won the Game (1928), black & white, 14 minutes, not rated.

Undercrank Productions, no catalog number, UPC 8-87936-72611-8.
One single-sided, single-layered, Region 0 NTSC DVD-R disc, 1.33:1 aspect ratio image in windowboxed 4:3 (720 x 480 pixels) interlaced scan MPEG-2 format, ? Mbps average video bit rate, ? kbps audio bit rate, Dolby Digital 2.0 stereo sound, English language intertitles, no foreign language subtitles, chapter stops; standard DVD keepcase, $19.95.
Release date: 16 January 2014.
Country of origin: USA