Reviews of silent film releases on home video.
Copyright © 1999-2018 by Carl Bennett
and the Silent Era Company.
All Rights Reserved.
Krazy Keystone
Komedies
(1914-1915)
Contents: Fatty's Suitless Day [Fatty's Magic Pants] (1914), Little Billy's Triumph (1914), Ambrose's Fury (1915), Ambrose's Lofty Perch (1915), Ambrose's Nasty Temper (1915), Mabel's Wilful Way (1915), That Little Band of Gold (1915), Willful Ambrose (1915), with these possibly-identified titles: Married Life [Mabel's Married Life] (1914) or [Mabel and Fatty's Married Life] (1915), Spooning Days [Mabel, Fatty and the Law] (1915), plus these unverified titles: Here's Where You Get Out (191?), He Took My Dime (191?), His Race with Death (191?), I Refuse to Listen Go (191?), A Jealous Impulse to Slay (191?), Pay the Insurance (191?), Police! Police! (191?), Ready for Anything (191?), Refuses to Listen (191?), The Restaurant (191?), Seeks His Lost Sweetheart (191?), Sorry to Trouble You! (191?), Thirty Dollars or Thirty Days (191?) and Wine with a Strange Woman (191?).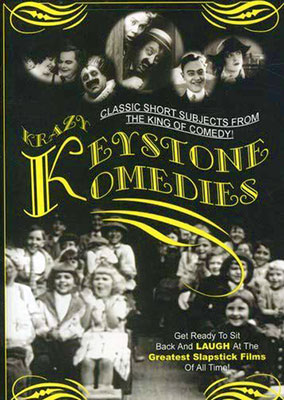 Substance
2007 DVD edition

Krazy Keystone Komedies (1914-1915), black & white, 202 minutes total, not rated,
including Fatty's Suitless Day [Fatty's Magic Pants] (1914), black & white, ? minutes, not rated, Little Billy's Triumph (1914), black & white, ? minutes, not rated, Ambrose's Fury (1915), black & white, ? minutes, not rated, Ambrose's Lofty Perch (1915), black & white, ? minutes, not rated, Ambrose's Nasty Temper (1915), black & white, ? minutes, not rated, Mabel's Wilful Way (1915), black & white, ? minutes, not rated, That Little Band of Gold (1915), black & white, ? minutes, not rated, Willful Ambrose (1915), black & white, ? minutes, not rated, with these possibly-identified titles: Married Life [Mabel's Married Life] (1914) or [Mabel and Fatty's Married Life] (1915), black & white, ? minutes, not rated, Spooning Days [Mabel, Fatty and the Law] (1915), black & white, ? minutes, not rated, plus these unverified titles: Here's Where You Get Out (191?), black & white, ? minutes, not rated, He Took My Dime (191?), black & white, ? minutes, not rated, His Race with Death (191?), black & white, ? minutes, not rated, I Refuse to Listen Go (191?), black & white, ? minutes, not rated, A Jealous Impulse to Slay (191?), black & white, ? minutes, not rated, Pay the Insurance (191?), black & white, ? minutes, not rated, Police! Police! (191?), black & white, ? minutes, not rated, Ready for Anything (191?), black & white, ? minutes, not rated, Refuses to Listen (191?), black & white, ? minutes, not rated, The Restaurant (191?), black & white, ? minutes, not rated, Seeks His Lost Sweetheart (191?), black & white, ? minutes, not rated, Sorry to Trouble You! (191?), black & white, ? minutes, not rated, Thirty Dollars or Thirty Days (191?), black & white, ? minutes, not rated, and Wine with a Strange Woman (191?), black & white, ? minutes, not rated.

Substance, unknown catalog number, UPC 0-18619-19151-4.
One single-sided, dual-layered?, Region 0 NTSC DVD disc, 1.33:1 aspect ratio image in full-frame 4:3 (720 x 480 pixels) interlaced scan MPEG-2 format, ? Mbps average video bit rate, ? kbps audio bit rate, Dolby Digital 2.0 mono sound, English language intertitles, no foreign language subtitles, chapter stops; standard DVD keepcase, $14.95.
Release date: 11 September 2007.
Country of origin: USA