Reviews of silent film releases on home video.
Copyright © 1999-2014 by Carl Bennett
and the Silent Era Company.
All Rights Reserved.
The Lost Films of
Laurel and Hardy


Volume Two


(1923-1929)
Contents: Oranges and Lemons (1923), Roughest Africa (1923), Sugar Daddies (1927), Early to Bed (1928), Angora Love (1929) and Double Whoopee (1929).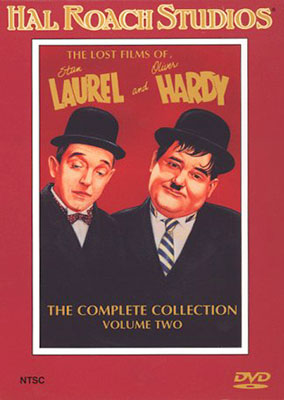 1998 Hal Roach Studios DVD edition

The Lost Films of Laurel and Hardy, The Complete Collection, Volume Two (1923-1929), black & white, 118 minutes total, not rated,
including Oranges and Lemons (1923), black & white, ? minutes, not rated, Roughest Africa (1923), black & white, ? minutes, not rated, Sugar Daddies (1927), black & white, ? minutes, not rated, Early to Bed (1928), black & white, ? minutes, not rated, Angora Love (1929), black & white, ? minutes, not rated, and Double Whoopee (1929), black & white, ? minutes, not rated.

Hal Roach Studios, HRS 4792, UPC 0-14381-47922-5.
Full-frame 4:3 NTSC, one single-sided, single-layered DVD disc, Region 0, ? Mbps average video bit rate, ? kbps audio bit rate, Dolby Digital 2.0 mono sound, English language intertitles, no foreign language subtitles, chapter stops, snapper DVD case (reissued in standard DVD keepcase), $29.99.
DVD release date: 22 December 1998.
Country of origin: USA