Reviews of silent film releases on home video.
Copyright © 1999-2014 by Carl Bennett
and the Silent Era Company.
All Rights Reserved.
The Lost Films of
Laurel and Hardy


Volume Seven


(1927-1934)
Contents: Sailors Beware (1927), With Love and Hisses (1927), Should Married Men Go Home? (1928), Double Whoopee (1929) [modern talkie version], Unaccustomed As We Are (1929) [talkie version] and Mixed Nuts (1934).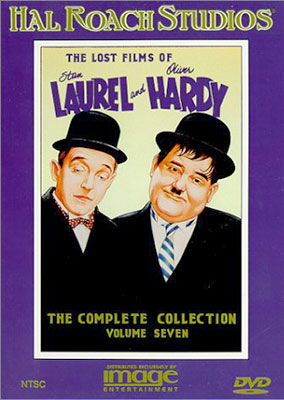 2000 Hal Roach Studios DVD edition

The Lost Films of Laurel and Hardy, The Complete Collection, Volume Seven (1927-1934), black & white, 127 minutes total, not rated,
including Sailors Beware (1927), black & white, ? minutes, not rated, With Love and Hisses (1927), black & white, ? minutes, not rated, Should Married Men Go Home? (1928), black & white, ? minutes, not rated, Double Whoopee (1929) [modern talkie version], black & white, ? minutes, not rated, Unaccustomed As We Are (1929) [talkie version], black & white, ? minutes, not rated, and Mixed Nuts (1934), black & white, ? minutes, not rated.

Hal Roach Studios, HRS4797, UPC 0-14381-47972-0.
Full-frame 4:3 NTSC, one single-sided, single-layered DVD disc, Region 0, ? Mbps average video bit rate, ? kbps audio bit rate, Dolby Digital 2.0 mono sound, English language intertitles, no foreign language subtitles, chapter stops, snapper DVD case (reissued in standard DVD keepcase), $29.99.
DVD release date: 30 May 2000.
Country of origin: USA