Reviews of silent film releases on home video.
Copyright © 1999-2019 by Carl Bennett
and the Silent Era Company.
All Rights Reserved.
The O'Kalem
Collection:
1910-1915
(1910-2011)
Contents: The Lad from Old Ireland (1910) [two versions], Rory O'More (1911), The Colleen Bawn (1911), You Remember Ellen (1912), His Mother (1912) [two versions], For Ireland's Sake (1914), Come Back to Erin (1914), Bold Emmett, Ireland's Martyr (1915) and Blazing the Trail: The O'Kalems in Ireland (2011).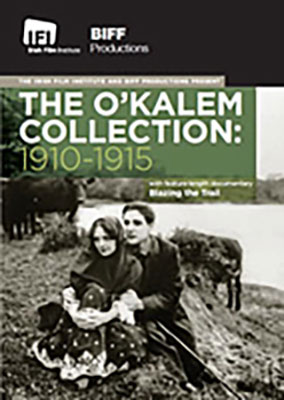 Irish Film Institute
2011 DVD edition

The O'Kalem Collection: 1910-1915 (1910-2011), black & white and color, 295 minutes total, BBFC Classification E,
including The Lad from Old Ireland (1910) [USA version], black & white, 14 minutes, BBFC Classification E, The Lad from Old Ireland (1910) [German version], black & white, 14 minutes, BBFC Classification E, Rory O'More (1911), black & white, 13 minutes, BBFC Classification E, The Colleen Bawn (1911), black & white, 42 minutes, BBFC Classification E, You Remember Ellen (1912), black & white, 14 minutes, BBFC Classification E, His Mother (1912) [USA version], black & white, 11 minutes, BBFC Classification E, His Mother (1912) [Dutch version], black & white, 11 minutes, BBFC Classification E, For Ireland's Sake (1914), black & white, 38 minutes, BBFC Classification E, Come Back to Erin (1914), black & white, 13 minutes, BBFC Classification E, Bold Emmett, Ireland's Martyr (1915), black & white, 36 minutes, BBFC Classification E, and Blazing the Trail: The O'Kalems in Ireland (2011), color and black & white, 86 minutes, BBFC Classification E.

Irish Film Institute, IFIDVD4, unknown UPC number.
Two single-sided, dual-layered, Region 0 NTSC DVD discs, 1.33:1 aspect ratio image in full-frame 4:3 [short films] and 16:9 anamorphic [documentary] (720 x 480 pixels) interlaced scan MPEG-2 format, ? Mbps average video bit rate, ? kbps audio bit rate, Dolby Digital 2.0 stereo sound, English language intertitles, no foreign language subtitles, chapter stops; two-disc standard DVD keepcase, €19.99.
Release date: 2011.
Country of origin: Ireland