Reviews of silent film releases on home video.
Copyright © 1999-2018 by Carl Bennett
and the Silent Era Company.
All Rights Reserved.
Our Gang
Volume One
(1922-1923)
Contents: Fire Fighters (1922), Young Sherlocks (1922), One Terrible Day (1922), A Quiet Street (1922), The Big Show (1923), The Champeen (1923) and A Pleasant Journey (1923).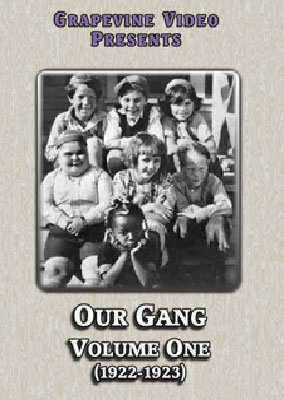 Grapevine Video
2006 DVD edition

Our Gang, Volume One (1922-1923), black & white, 123 minutes total, not rated,
including Fire Fighters (1922), black & white, 24 minutes, not rated, Young Sherlocks (1922), black & white, 14 minutes, not rated, One Terrible Day (1922), black & white, 16 minutes, not rated, A Quiet Street (1922), black & white, 15 minutes, not rated, The Big Show (1923), black & white, 20 minutes, not rated, The Champeen (1923), black & white, 19 minutes, not rated, and A Pleasant Journey (1923), black & white, 15 minutes, not rated.

Grapevine Video, no catalog number, UPC 8-42614-10097-0.
Two single-sided, single-layered, Region 0 NTSC DVD discs, 1.33:1 aspect ratio image in full-frame 4:3 (720 x 480 pixels) interlaced scan MPEG-2 format, ? Mbps average video bit rate, ? kbps audio bit rate, Dolby Digital 2.0 mono sound, English language intertitles, chapter stops; standard DVD keepcase, $16.95.
Release date: 2006.
Country of origin: USA