Reviews of silent film releases on home video.
Copyright © 1999-2018 by Carl Bennett
and the Silent Era Company.
All Rights Reserved.

The Thanhouser Collection
DVD Volumes 10, 11 and 12
(1910-1916)

Contents: The Actor's Children (1910), Young Lord Stanley (1910), The Pasha's Daughter (1911), His Great Uncle's Spirit (1912), The Portrait of Lady Anne (1912), The Voice of Conscience (1912), In a Garden (1912), Her Nephews from Labrador (1913), His Uncle's Wives (1913), Seven Ages of an Alligator (1913), The Farmer's Daughters (1913), [In de Tropische Zee] (1914), Joseph in the Land of Egypt (1914), The Center of the Web (1914), Zudora [Episode 2, "The Mystery of the Sleeping House"] (1914), Old Jane of the Gaiety (1915), In the Hands of the Enemy (1915) and Silas Marner (1916).

Presented as three volumes entitled, More Early Thanhouser, The Genius of Charles J. Hite, and Edwin and Gertrude Return, this is the latest collection of Thanhouser films, which includes the feature films Joseph in the Land of Egypt (1914) and Silas Marner (1916).

The Actor's Children (1910), the first Thanhouser production, is a tale of an actor who is unable to pay rent for his apartment, and while seeking work with his wife, the actor's children are cast onto the streets when the landlady rents to someone else. The wandering children are lured by an organ grinder into forced street dancing. Meanwhile, the actor receives news of a huge inheritance. The children are rescued by the police and inexplicably are taken to the office of a theatrical manager. Unable to find their children, the actor and his wife look for them in theater crowds, only to recognize them dancing on stage.

Young Lord Stanley (1910) is a melodramatic story of the disinheritance of old Lord Stanley's young son. Cast off by his father, the young man emigrates to America where he obtains a job as a family's horse groomer. In course, he begins to fall in love with his employer's daughter but is fired to alleviate the possibility of her marrying a lowly groom. In England, the dying Lord Stanley forgives his son, reinstating the inheritance — surprise! The inevitable outcome is apparent.

In The Pasha's Daughter (1911), an American (William Garwood) traveling abroad meets a Turkish man on a train and they strike up an acquaintance. The Turk invites the man to his home for a stay, but when he is arrested as a conspirator, the American is arrested as an accomplice. The man stages an escape from prison and hides in a pasha's compound, where he is protected from capture by the beautiful daughter. A year later, in America, the man is surprised by a visit from the pasha's daughter.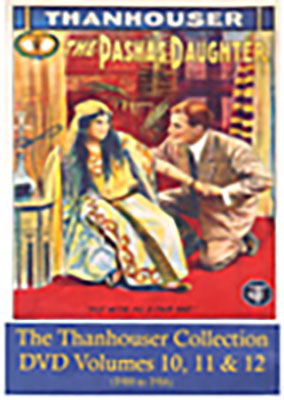 Thanhouser Company Film Preservation
2009 DVD edition

The Thanhouser Collection, DVD Volumes 10, 11 and 12 (1910-1916), black & white and color-toned black & white, 384 minutes total, not rated,
including The Actor's Children (1910), black & white, 14 minutes, not rated, Young Lord Stanley (1910), black & white, 14 minutes, not rated, The Pasha's Daughter (1911), black & white, 14 minutes, not rated, His Great Uncle's Spirit (1912), black & white, 15 minutes, not rated, The Portrait of Lady Anne (1912), black & white, 15 minutes, not rated, The Voice of Conscience (1912), black & white, 14 minutes, not rated, In a Garden (1912), black & white, 15 minutes, not rated, Her Nephews from Labrador (1913), black & white, 12 minutes, not rated, His Uncle's Wives (1913), black & white, 9 minutes, not rated, Seven Ages of an Alligator (1913), black & white, 4 minutes, not rated, The Farmer's Daughters (1913), black & white, 15 minutes, not rated, [In de Tropische Zee] (1914), black & white, 13 minutes, not rated, Joseph in the Land of Egypt (1914), color-toned black & white, 41 minutes, not rated, The Center of the Web (1914), black & white, 27 minutes, not rated, Zudora [Episode 2, "The Mystery of the Sleeping House"] (1914), black & white, 36 minutes, not rated, Old Jane of the Gaiety (1915), black & white, 16 minutes, not rated, In the Hands of the Enemy (1915), black & white, 26 minutes, not rated, and Silas Marner (1916), black & white, 33 minutes, not rated.

Thanhouser Company Film Preservation Incorporated, no catalog number, no UPC number.
Three single-sided, single-layered, Region 0 NTSC DVD-R discs, 1.33:1 aspect ratio image in full-frame 4:3 (720 x 480 pixels) interlaced scan MPEG-2 format, ? Mbps average video bit rate, ? kbps audio bit rate, Dolby Digital 2.0 stereo? sound, English language intertitles, no foreign language subtitles, chapter stops; three-disc DVD keepcase, $24.95.
Release date: 1 October 2009
Country of origin: USA