Reviews of silent film releases on home video.
Copyright © 1999-2018 by Carl Bennett
and the Silent Era Company.
All Rights Reserved.
Treasures III
Social Issues in American Film
(1900-1934)
Contents: How They Rob Men in Chicago (1900), The Kansas Saloon Smashers (1901), Why Mr. Nation Wants a Divorce (1901), Emigrants Landing at Ellis Island (1903), The Black Hand (1906), Trial Marriages (1907), The Voice of the Violin (1909), Ramona (1910), Manhattan Trade School for Girls (1911), The Crime of Carelessness (1912), From the Submerged (1912), Hope — A Red Cross Seal Story (1912), A Lively Affair (1912), The Strong Arm Squad of the Future (1912), A Suffragette in Spite of Himself (1912), The Usurer's Grip (1912), An American in the Making (1913), Saved by the Juvenile Court (1913), The Cost of Carelessness (1913), The Courage of the Commonplace (1913), newsreel exerpt On to Washington (1913), The Hazards of Helen [Episode 13] (1915), Who Pays? [Episode 12] (1915), Where Are My Children (1916), Bud's Recruit (1917), United Snakes of America (1917), 100% American (1918), The Reawakening (1919), Uncle Sam and the Bolsheviki-I.W.W. Rat (1919), Uncle Sam Donates for Liberty Loans (1919), Lights and Shadows in a City of a Million (1920), The Soul of Youth (1920), newsreel exerpt 6,000,000 American Children are Not in School (1922), [Eight Prohibition Newsreels] (1923-1933), exerpt from Labor's Reward (1925), Poor Mrs. Jones! (1926), The Godless Girl (1928), Redskin (1929), Listen to Some Words of Wisdom (1930), Offers Herself as Bride for $10,000 (1931), A Call for Help from Sing Sing! (1934).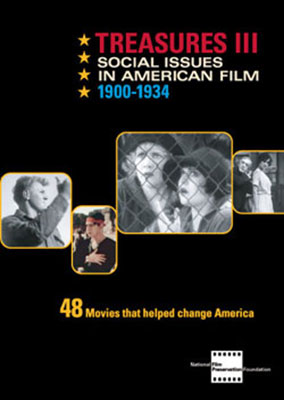 National Film Preservation Foundation
2007 DVD edition

Treasures III: Social Issues in American Film (1900-1934), black & white and color, 739 minutes total, not rated,
including How They Rob Men in Chicago (1900), black & white, 25 seconds, not rated, The Kansas Saloon Smashers (1901), black & white, 1 minute, not rated, Why Mr. Nation Wants a Divorce (1901), black & white, 2 minutes, not rated, Emigrants Landing at Ellis Island (1903), black & white, 2 minutes, not rated, The Black Hand (1906), black & white, 11 minutes, not rated, Trial Marriages (1907), black & white, 12 minutes, not rated, The Voice of the Violin (1909), black & white, 16 minutes, not rated, Ramona (1910), black & white, 16 minutes, not rated, Manhattan Trade School for Girls (1911), black & white, 16 minutes, not rated, The Crime of Carelessness (1912), black & white, 14 minutes, not rated, From the Submerged (1912), black & white, 11 minutes, not rated, Hope — A Red Cross Seal Story (1912), black & white, 14 minutes, not rated, A Lively Affair (1912), black & white, 7 minutes, not rated, The Strong Arm Squad of the Future (1912), black & white, 1 minute, not rated, A Suffragette in Spite of Himself (1912), black & white, 8 minutes, not rated, The Usurer's Grip (1912), black & white, 15 minutes, not rated, An American in the Making (1913), black & white, 15 minutes, not rated, Saved by the Juvenile Court (1913), black & white, 4 minutes, not rated, The Cost of Carelessness (1913), black & white, 13 minutes, not rated, The Courage of the Commonplace (1913), black & white, 13 minutes, not rated, On to Washington (1913) [newsreel exerpt], black & white, 1 minute, not rated, The Hazards of Helen [episode 13] (1915), black & white, 13 minutes, not rated, Who Pays? [episode 12] (1915), color-toned black & white, 35 minutes, not rated, Where Are My Children (1916), color-toned black & white, 65 minutes, not rated, Bud's Recruit (1917), black & white, 26 minutes, not rated, United Snakes of America (1917), black & white, 1 minute, not rated, 100% American (1918), black & white, 14 minutes, not rated, The Reawakening (1919), black & white, 10 minutes, not rated, Uncle Sam and the Bolsheviki-I.W.W. Rat (1919), black & white, 1 minute, not rated, Uncle Sam Donates for Liberty Loans (1919), black & white, 1 minute, not rated, Lights and Shadows in a City of a Million (1920), black & white, 7 minutes, not rated, The Soul of Youth (1920), color-toned black & white and black & white, 80 minutes, not rated, 6,000,000 American Children Are Not in School (1922) [newsreel exerpt], black & white, 2 minutes, not rated, [Eight Prohibition Newsreels] (1923-1933), black & white, 13 minutes, not rated, Labor's Reward (1925) [exerpt], black & white and color-toned black & white, 13 minutes, not rated, Poor Mrs. Jones! (1926), black & white, 46 minutes, not rated, The Godless Girl (1928), black & white, 128 minutes, not rated, Redskin (1929), color and color-tinted black & white, 82 minutes, not rated, Listen to Some Words of Wisdom (1930), black & white, ? minutes, not rated, Offers Herself as Bride for $10,000 (1931), black & white, ? minutes, not rated, A Call for Help from Sing Sing! (1934), black & white, ? minutes, not rated.

National Film Preservation Foundation, distributed by Image Entertainment,
NATD3827DVD, UPC 0-14381-38272-3.
Four single-sided, dual-layered, Region 0 NTSC DVD discs, 1.33:1 aspect ratio image in full-frame 4:3 (720 x 480 pixels) interlaced scan MPEG-2 format, 5 Mbps average video bit rate, ? kbps audio bit rate, Dolby Digital 2.0 stereo sound, English language intertitles (silent era films), no foreign language subtitles, chapter stops; four standard DVD keepcases with book of program notes in cardboard slipcase, $89.99.
Release date: 16 October 2007.
Country of origin: USA