Reviews of silent film releases on home video.
Copyright © 1999-2018 by Carl Bennett
and the Silent Era Company.
All Rights Reserved.
Treasures 5
The West 1898-1938
(1898-1938)
Contents: [The West in Promotional Travelogues] (1988-1920), Over Silent Paths (1910), The Sergeant: Told in the Yosemite Valley (1910), Mexican Filibusters (1911), The Better Man (1912), Broncho Billy and the Schoolmistress (1912), Life on the Circle Ranch in California (1912), The Tourists (1912), The Girl Ranchers (1913), Ammunition Smuggling on the Mexican Border (1914), The Last of the Line (1914), Salomy Jane (1914), Passing of the Oklahoma Outlaw (1915) [exerpt], Beauty Spots in America: Castle Hot Springs, Arizona (1916), Deschutes Driftwood (1916), Lake Tahoe, Land of the Sky (1916), Legal Advice (1916), How the Cowboy Makes His Lariat (1917), The Lady of the Dug-Out (1918), Sunshine Gatherers (1921), Womanhandled (1925) [incomplete], The Indian-Detour (1926), Mantrap (1926), Romance of Water (1930), A New Miracle in the Desert (1935), We Can Take It (1935), The "Promised Land" Barred to "Hoboes" (1936), The Golden West (1938) [exerpt] and [Native Americans in Newsreels] (1921-1938).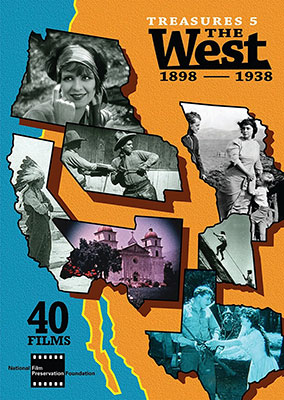 National Film Preservation Foundation
2011 DVD edition

Treasures 5: The West 1898-1938 (1898-1938), black & white and color, 596 minutes total, not rated,
including [The West in Promotional Travelogues] (1988-1920), black & white, 22 minutes, not rated, Over Silent Paths (1910), black & white, 16 minutes, not rated, The Sergeant: Told in the Yosemite Valley (1910), black & white, 16 minutes, not rated, Mexican Filibusters (1911), black & white, 16 minutes, not rated, The Better Man (1912), black & white, 12 minutes, not rated, Broncho Billy and the Schoolmistress (1912), black & white, 14 minutes, not rated, Life on the Circle Ranch in California (1912), black & white, 12 minutes, not rated, The Tourists (1912), black & white, 6 minutes, not rated, The Girl Ranchers (1913), black & white, 14 minutes, not rated, Ammunition Smuggling on the Mexican Border (1914), black & white, 41 minutes, not rated, The Last of the Line (1914), black & white, 26 minutes, not rated, Salomy Jane (1914), black & white, 87 minutes, not rated, Passing of the Oklahoma Outlaw (1915) [exerpt], black & white, 13 minutes, not rated, Beauty Spots in America: Castle Hot Springs, Arizona (1916), black & white, 6 minutes, not rated, Deschutes Driftwood (1916), black & white, 10 minutes, not rated, Lake Tahoe, Land of the Sky (1916), black & white, 6 minutes, not rated, Legal Advice (1916), black & white, 13 minutes, not rated, How the Cowboy Makes His Lariat (1917), black & white, 3 minutes, not rated, The Lady of the Dug-Out (1918), black & white, 64 minutes, not rated, Sunshine Gatherers (1921), black & white, 10 minutes, not rated, Womanhandled (1925) [incomplete], black & white, 55 minutes, not rated, The Indian-Detour (1926), black & white, 16 minutes, not rated, Mantrap (1926), black & white, 71 minutes, not rated, Romance of Water (1930), black & white, 10 minutes, not rated, A New Miracle in the Desert (1935), black & white, 1 minute, not rated, We Can Take It (1935), black & white, 21 minutes, not rated, The "Promised Land" Barred to "Hoboes" (1936), black & white, 2 minutes, not rated, The Golden West (1938) [exerpt], black & white, 8 minutes, not rated, and [Native Americans in Newsreels] (1921-1938), black & white, 5 minutes, not rated.

National Film Preservation Foundation, distributed by Image Entertainment, NATD7003DVD, UPC 0-14381-70032-9, ISBN 976-0-9747099-6-3.
Three single-sided, dual-layered, Region 0 NTSC DVD discs, 1.33:1 aspect ratio image in full-frame 4:3 (720 x 480 pixels) interlaced scan MPEG-2 format, ? Mbps average video bit rate, ? kbps audio bit rate, Dolby Digital 2.0 stereo sound, English language intertitles (silent era films), no foreign language subtitles, chapter stops; three slimline DVD keepcases with book of program notes in cardboard slipcase, $59.98.
Release date: 27 September 2011.
Country of origin: USA