Reviews of silent film releases on home video.
Copyright © 1999-2018 by Carl Bennett
and the Silent Era Company.
All Rights Reserved.
The Complete
Weird Cartoons
(1910-1943)
Contents: The Hasher's Delirium (1910), Frogland [The Frogs Who Wanted a King] (1922), Alice's Egg Plant (1925), Alice the Toreador (1925), The Non Stop Fright (1927), Hold Anything (1930), It's a Bird (1930), In a Cartoon Studio [Making 'em Move] (1931), Crazy Town (1932), Betty Boop's Crazy Inventions (1933), The Devil's Ball [The Mascot] (1934), Little Black Sambo (1935), The Cobweb Hotel (1936), Small Fry (1939), Scrub Me Mama with a Boogie Beat (1941), Inki and the Minah Bird (1943) and Scrap Happy Daffy (1943).
Don't believe the release years that you see listed on this disc's packaging for the films. Look them up on IMDb instead. Was video producer Johnny Legend just guessing? On the some of the cartoons . . . yes.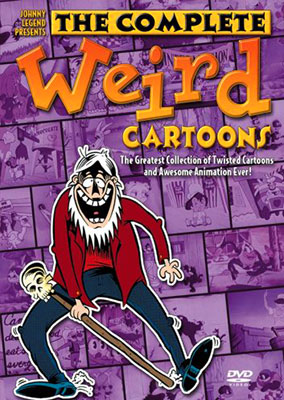 Shout! Factory
2004 DVD edition

Johnny Legend Presents The Complete Weird Cartoons (1910-1943), black & white and color, 117 minutes total, not rated,
including The Hasher's Delirium (1910), black & white, ? minutes, not rated, Frogland [The Frogs Who Wanted a King] (1922), black & white, ? minutes, not rated, Alice's Egg Plant (1925), black & white, ? minutes, not rated, Alice the Toreador (1925), black & white, ? minutes, not rated, The Non Stop Fright (1927), black & white, ? minutes, not rated, Hold Anything (1930), black & white, ? minutes, not rated, It's a Bird (1930), black & white, ? minutes, not rated, In a Cartoon Studio [Making 'em Move] (1931), black & white, ? minutes, not rated, Crazy Town (1932), black & white, ? minutes, not rated, Betty Boop's Crazy Inventions (1933), black & white, ? minutes, not rated, The Devil's Ball [The Mascot] (1934), black & white, ? minutes, not rated, Little Black Sambo (1935), black & white, ? minutes, not rated, The Cobweb Hotel (1936), black & white, ? minutes, not rated, Small Fry (1939), black & white, ? minutes, not rated, Scrub Me Mama with a Boogie Beat (1941), black & white, ? minutes, not rated, Inki and the Minah Bird (1943), black & white, ? minutes, not rated, and Scrap Happy Daffy (1943), black & white, ? minutes, not rated.

Shout! Factory, DVD 30535, UPC 0-26663-05359-3, ISBN 0-7389-2668-X.
One single-sided, dual-layered, Region 1 NTSC DVD disc, 1.33:1 aspect ratio image in full-frame 4:3 (720 x 480 pixels) interlaced scan MPEG-2 format, ? Mbps average video bit rate, ? kbps audio bit rate, Dolby Digital 2.0 mono sound, English language intertitles (silent era films only), no foreign language subtitles, chapter stops; standard DVD keepcase, $14.98.
Release date: 20 January 2004.
Country of origin: USA