Reviews of silent film releases on home video.
Copyright © 1999-2018 by Carl Bennett
and the Silent Era Company.
All Rights Reserved.
Man Ray
Prophet of the Avant-Garde
(1997)
An interesting note: Man Ray was pushed into filmmaking by dadist Tristan Tzara, who published a programme for an event listing a film, which would be shown at the event, by Man Ray. There was no film and Man Ray didn't even know of the schedule until the day before the event. Tzara had even given the film a title already. Adapting one of his photographic printmaking techniques, Man Ray made the film which was shown at the event the following evening. The film was Le Retour à la raison (1923). — Carl Bennett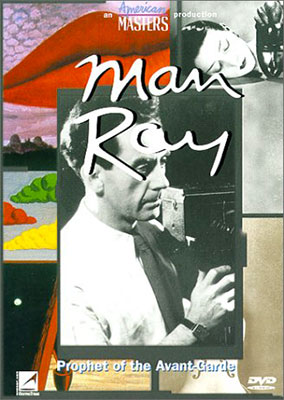 Fox Lorber
2000 DVD edition

Man Ray: Prophet of the Avant-Garde (1997), color and black & white, 60 minutes, not rated.

Fox Lorber, WHE73041DVD, UPC 7-20917-30412-0.
One single-sided, single-layered, Region 1 NTSC DVD disc, 1.33:1 aspect ratio image in full-frame 4:3 (720 x 480 pixels) interlaced scan MPEG-2 format, ? Mbps average video bit rate, ? kbps audio bit rate, Dolby Digital 2.0 stereo sound, no foreign language subtitles, chapter stops; standard DVD keepcase, $24.98.
Release date: 22 February 2000.
Country of origin: USA

Ratings (1-10): video: 9 / audio: 8 / additional content: 5 / overall: 7.