Reviews of silent film releases on home video.
Copyright © 1999-2018 by Carl Bennett
and the Silent Era Company.
All Rights Reserved.

Mary Pickford
A Life on Film
(1997)

"When Mary Pickford smiles, the angels sing," Lillian Gish said. And so describes something of the immense charm and appeal of the most popular actress of the entire silent era.

This well-made documentary features many stills and clips from more than 50 Mary Pickford films, including the hard-to-find feature film The Hoodlum (1919). The documentary makes good use of its more than an hour-and-a-half running time, feeling not so much like a automobile race through a life as more of a guided tour. The documentary manages to touch upon the important points and moments of Pickford's life and career in a decidedly compassionate manner. The structure and choice of film clips gradually reveals to the viewer the vast talent Mary had as an actor. Other moments reveal the sharp businesswoman who helped to shape Hollwood as an industry center. Leonard Maltin observes that Mary might have been the canniest woman to ever work in motion pictures. And despite the fact that Mary had no true education — she worked continuously as a very young child actor to support her mother and siblings, allowing Lottie and Jack something of a real childhood — she actually had better control of her adult life than her fated brother and sister and several of her professional collaborators.

Directed by Hugo Munro Neely and written by Rita Mae Brown, with music by Kenton Youngstrom, the documentary is narrated by Whoopi Goldberg and hosted from the stage where Mary Pickford premiered on Broadway for David Belasco in the play The Warrens of Virginia. Interviews are included with a very elderly Douglas Fairbanks Jr., Leonard Maltin, Roddy McDowall, Janet Leigh, Samuel Goldwyn Jr., Jean Firstenberg of AFI, Fay Kanin, Edward Stotsenberg of the Mary Pickford Institute, Miles Kruger, musician Bob Mitchell, child actress Cammilla Jones (Camille Johnson), and a comment from Charles 'Buddy' Rogers originally recorded for a video introduction to My Best Girl (1927). The narration includes Goldberg's irritating mispronunciation of Joseph Schenck's name.

The documentary covers Mary Pickford's early years as a child actress leading to her attention-getting appearances on Broadway, her reluctant foray into 'the flickers,' and her rise at Biograph with director D.W. Griffith; her marriage to Owen Moore and defection to Carl Laemmle's IMP; her return to artistic satisfaction and lower pay at Biograph; her ground-breaking contracts with Famous Players, and her soaring popularity in features. The section on the late 1910s and Mary Pickford's rise as an independent artist begins with her secretive courtship and later marriage to Douglas Fairbanks, the formation of United Artists Corporation, and Mary's self-production of her films. Other moments cover director Marshall Neilan (Mary's favorite director), Mary and Doug's regal popularity among the film audiences of the world, director Ernst Lubitsch and Rosita (1923), and nearly each of her feature films from the 1920s. Jones remembers her experiences orphan child actors in Sparrows (1926). Another chapter of Mary's life begins with the casting of Charles 'Buddy' Rogers for My Best Girl, and continues with the production of her first talkie, Coquette (1929), for which she won the second Academy Award for Best Actress after verbally pummelling the newly-formed Academy into submission. Exerpts of The Taming of the Shrew (1929) reminds us that we want to see the original version of the film, not the Matty Kemp produced and rescored rerelease from the 1970s. Next is the gradual dissolution of the Pickford-Fairbanks partnership, the incomplete production of Forever Yours (1930), directed by Neilan, which eventually became her final film Secrets (1933). The thirties are covered in the death of Jack Pickford, the divorce from Doug, the end of her film career, and the death of Lottie. Her family all gone, she turned to charity work, and some work as a film producer. After gloomy, death-laden years, things began to look up with her 1937 marriage to Buddy Rogers, who was enjoying his career as a Paramount star and a big band leader. Doug's death followed in 1939 and then World War II, with Buddy serving in the military, the couple adopted two children. The post-war years were grimly punctuated with the death of D.W. Griffith in 1948 and the sale of the Pickford-Fairbanks studios in 1949. Mary Pickford bought the rights to several of her circulating films with the intent of destroying them, not wanting to be an antiquated subject of anti-nostalgic ridicule, she later donated them to the Library of Congress. And while it is an interesting exercise to postulate on what Mary Pickford could have done in the role of Norma Desmond, we cannot imagine anyone doing a grander job than Gloria Swanson in Sunset Boulevard (1950). The documentary begins to wind down with clips of Mary's acceptance of her 1976 life-achievement Academy Award, with beloved Buddy watching from the audience. She died three years later at age 87 years.

Of our favorite moments in the documentary, we like the section from Rebecca of Sunnybrook Farm (1917), narrated by Leonard Maltin, as Rebecca considers eating some pie she knows she shouldn't have, and also Bob Mitchell's narration of the birthday sequence from Little Annie Rooney (1925). — Carl Bennett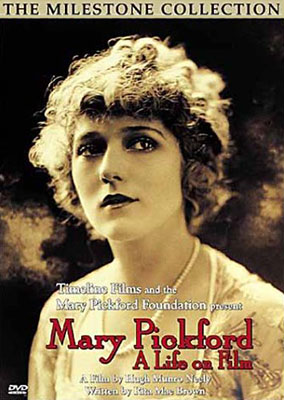 The Milestone Collection
2001 DVD edition

Mary Pickford: A Life on Film (1997), color and black & white, 99 minutes, not rated.

Milestone Film & Video, distributed by Image Entertainment,
ID9794MLSDVD, UPC 0-14381-97942-8.
One single-sided, single-layered, Region 0 NTSC DVD disc, 1.33:1 aspect ratio image in full-frame 4:3 (720 x 480 pixels) interlaced scan MPEG-2 format, 5 Mbps average video bit rate, 224 kbps audio bit rate, Dolby Digital 2.0 stereo sound, no foreign language subtitles, 13 chapter stops; standard DVD keepcase, $29.99.
Release date: 28 August 2001.
Country of origin: USA

Ratings (1-10): video: 9 / audio: 9 / additional content: 0 / overall: 9.