Reviews of silent film releases on home video.
Copyright © 1999-2016 by Carl Bennett
and the Silent Era Company.
All Rights Reserved.
Victor Sjöström
(1981)
This feature-length documentary was directed by Gösta Werner, produced by Sjöström biographer Bengt Forslund, and features Ingmar Bergman.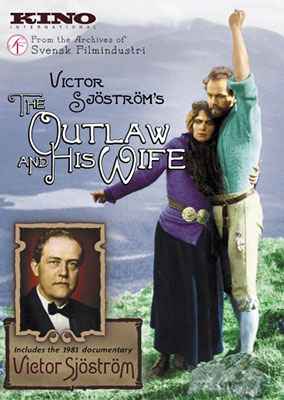 Kino International
2008 DVD edition

The Outlaw and His Wife (1918), color-toned black & white, 70 minutes, not rated,
with Victor Sjöström (1981), color and black & white, 65 minutes, not rated.

Kino International, K598, UPC 7-38329-05982-8.
Full-frame 4:3 NTSC, one single-sided, dual-layered DVD disc, Region 0, ? Mbps average video bit rate, ? kbps audio bit rate, Dolby Digital 2.0 stereo sound, Swedish language audio, English language subtitles, 16 chapter stops, standard DVD keepcase, $29.95.
DVD release date: 29 July 2008.
Country of origin: USA

Ratings (1-10): video: 8 / audio: 8 / additional content: 8 / overall: 8.