Reviews of silent film releases on home video.
Copyright © 1999-2017 by Carl Bennett
and the Silent Era Company.
All Rights Reserved.
The Goddess
(1934)
Starring the evocative Ruan Ling-yu, The Goddess (1934) is the story of a single mother who must care for her young son in an environment of hostile intolerance. As her options dwindle, she turns to prostitution to provide a living for her son and herself.
An chance encounter leads the young mother to her financial servitude to a street tough. She decides to move to another district to escape his leeching, but the tough finds her and again forces her into working for him.
As her son grows, the mother hides money to ensure her son's education. The boy begins attending a school, but it is forced into an investigation of the mother's affairs which results in the resignation of a sympathetic principal and the expulsion of her son. Frustrated, the mother resolves to leave the city altogether until she discovers that the tough has found her hiding place and taken her money. When she confronts the tough, she kills him in a blind rage, and is soon put on trial, where she receives a sentence of 12 years. The old principal visits her in jail and reveal that he is willing to adopt her son to ensure his education and give him a fair chance in life.
The film was directed by Wu Yonggang, and also features Zhang Zhizhi and Li Keng. The crudeness of some of the sets are balanced by some well-timed tracking and other well-framed shots.
Ruan Ling-yu was a revered actress of the late Chinese silent era, who won popular acclaim for her work in a series of social dramas. Unable to cope with life, Ling-yu committed suicide in 1935 at the age of 24. — Carl Bennett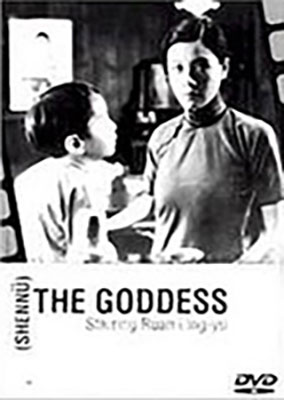 Center for Media Design
2003 DVD edition

The Goddess (1934), black & white, 73 minutes, not rated.

Center for Media Design, no catalog number, no UPC number.
Full-frame 4:3 NTSC and PAL, one dual-sided, single-layered DVD disc, Region 0, 5.5 Mbps average video bit rate, 192 kbps audio bit rate, Dolby Digital 2.0 stereo sound, Chinese and English language intertitles, no foreign language subtitles, 11 chapter stops, standard DVD keepcase, $29.95 (reduced to $12.99).
Release date: 2003.
Country of origin: USA

Ratings (1-10): video: 6 / audio: 8 / additional content: 4 / overall: 7.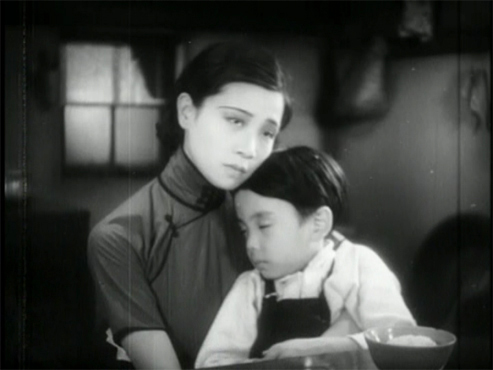 The Center for Media Design of Muncie, Indiana's Ball State University released this late Chinese silent era film in an edition transferred by Haghefilm Conservation B.V. of Amsterdam, The Netherlands.
The 35mm source print held by the Beijing's China Film Archive is generally of very-good quality, with some shots a little contrasty with blasted out highlight details and plugged-up shadows. The majority of the print holds a reasonably broad range of greytones and image detail, but it is also moderately compromised by persistent speckling, dust on the original negative (white dust on the processed positive print) and processing imperfections, a little emulsion damage (scuffing and minor decomposition), small exposure fluctuations, and a sometimes jumpy picture.
The full-frame video transfer well reproduces the image detail and tonal qualities as are present in the source print. The transfer has been well compressed for DVD, revealing few artifacts even in still frames.
The film is accompanied by an original piano score composed and performed by Kevin Purrone. This score is well-composed and performed, and is also available separately on compact disc.
Among the DVD features is a presentation of the original Chinese version of the film and an English-language version facilitated by the alternate angle capabilities of the DVD. Also included is an introduction by video producer Richard J. Meyer (16 minutes). The mini-documentary includes commentary on the music score by Purrone, and the sound design by engineer Stan Sollars.
The disc is unencoded and is presented in both NTSC and PAL compatible formats, which allows the disc to be viewed in DVD players nearly worldwide.
This Region 0 NTSC/PAL DVD edition is OUT-OF-PRINT.