Reviews of silent film releases on home video.
Copyright © 1999-2018 by Carl Bennett
and the Silent Era Company.
All Rights Reserved.
The Life and Passion
of Jesus Christ
(1905)
An early example of feature-length filmmaking, this epic (by 1905 standards) is unusually entertaining despite the stiff acting and tableaux posing.
A surviving print exhibits an excellent example of the turn-of-the-century stencil-based hand-tinted Pathécolor process, which added a pastel coloring to release prints.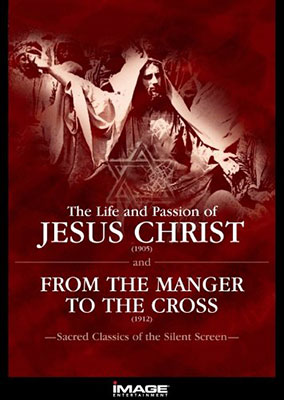 Image Entertainment
2003 DVD edition

The Life and Passion of Jesus Christ (1905), color-tinted and color-toned black & white, 44 minutes, not rated,
with From the Manger to the Cross (1912), color-toned black & white, 70 minutes, not rated.

Film Preservation Associates, distributed by Image Entertainment,
ID1917DSDVD, UPC 0-14381-19172-1.
One single-sided, single-layered, Region 0 NTSC DVD disc (reissued on DVD-R disc), 1.33:1 aspect ratio image in full-frame 4:3 (720 x 480 pixels) interlaced scan MPEG-2 format, ? Mbps average video bit rate, ? kbps audio bit rate, Dolby Digital 2.0 stereo sound, English language intertitles, no foreign language subtitles, 7 chapter stops; standard DVD keepcase, $24.99.
Release date: 8 April 2003.
Country of origin: USA

Ratings (1-10): video: 7 / audio: 7 / additional content: 5 / overall: 6.