Reviews of silent film releases on home video.
Copyright © 1999-2018 by Carl Bennett
and the Silent Era Company.
All Rights Reserved.
Old
San Francisco
(1927)
This drama of San Francisco before the earthquake, directed by Alan Crosland, features Dolores Costello, Warner Oland, Charles Emmett Mack, Josef Swickard, John Miljan, Anders Randolf, Sojin Kamiyama, Anna May Wong and William Demarest.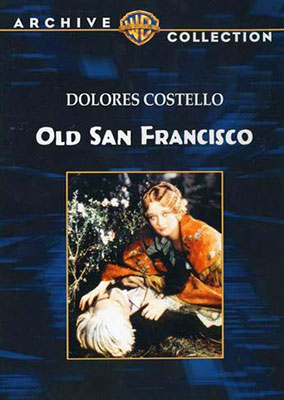 Warner Archive Collection
2009 DVD edition
Old San Francisco (1927), black & white, 89 minutes, not rated.
Warner Home Video, no catalog number, unknown UPC number.
One single-sided, single-layered, Region 0 NTSC DVD-R disc, 1.33:1 aspect ratio image in full-frame 4:3 (720 x 480 pixels) interlaced scan MPEG-2 format, ? Mbps average video bit rate, ? kbps audio bit rate, Dolby Digital 1.0 mono sound, English language intertitles, no foreign language subtitles, chapter stops; standard DVD keepcase, $14.95.
Release date: 15 September 2009.
Country of origin: USA