Reviews of silent film releases on home video.
Copyright © 1999-2018 by Carl Bennett
and the Silent Era Company.
All Rights Reserved.

The
Primitive Lover
(1922)

Constance Talmadge was a very popular comedianne during a career which spanned 1914 through 1929. The Primitive Lover (1922) is a representative example of a Talmadge romantic comedy vehicle, all enjoyable fluff and puff.

Smitten with her romance-novel, rough-and-ready image of the ideal man, Phyllis Graham Tomley (Constance Talmadge) finds fault in the gentle ways of her husband, inventor Hector Tomley (Harrison Ford), when compared to her former fiancé, adventurer and romance novelist Donald Wales (Kenneth Harlan). Despondent over her marriage to cold fish Hector, Phyllis pines for what might have been with the late author — lost in a South American jungle — only to find that he has returned alive to civilization.

When Hector martyrs their marriage, Phyllis is swept away by Donald to Nevada where she obtains a quick divorce. Hector, who follows her, realizes what he has given up and put in motion a plan to prove to Phyllis how silly her romantic notions are and what a fraud Donald is.

Constance Talmadge is so pleasantly cute in this film, it is easy for the uninitiated to understand her popularity with filmgoing audiences of the silent era. Ford and Harlan turn in competent performances that keep the film moving along. The film's title references the title of Donald's successful romance novel, the cause of the whole brouhaha. — Carl Bennett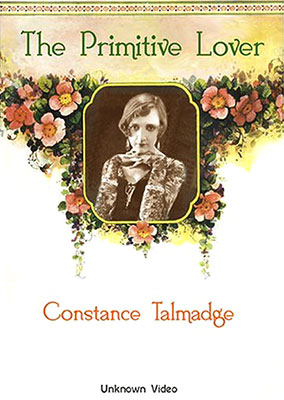 Unknown Video
2004 DVD edition

The Primitive Lover (1922), black & white, 71 minutes, not rated,
with Splash Yourself (1927), black & white, 10 minutes, not rated.

Unknown Video, no catalog number, unknown UPC number.
One single-sided, single-layered, Region 0 NTSC DVD-R disc, 1.33:1 aspect ratio image in full-frame 4:3 (720 x 480 pixels) interlaced scan MPEG-2 format, ? Mbps average video bit rate, ? kbps audio bit rate, Dolby Digital 2.0 mono sound, English language intertitles, no foreign language subtitles, 5 chapter stops; standard DVD keepcase, $18.95.
Release date: 22 November 2004.
Country of origin: USA

Ratings (1-10): video: 8 / audio: 7 / additional content: 5 / overall: 7.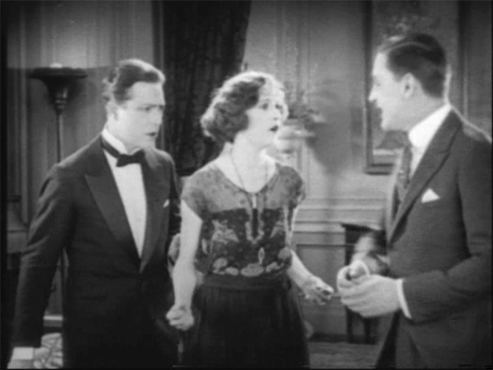 This DVD-R edition of The Primitive Lover is a reasonably-well produced disc that has been mastered from a 16mm fine-grain reduction print from the Blackhawk Films collection. The picture is slightly soft of image detail, and flecked with a share of speckles and dust, a touch of beginning print decomposition in places, mild frame jitters, and a few splices that may have been present in the original source print, but the well-done, natural-speed video transfer is mastered from better materials than most small video companies, and renders very-good to at times excellent results.
The disc features a well-done electric organ musical accompaniment performed by Bob Vaughn.
Also featured is an abridged version of a Bobby Vernon comedy, from a good 16mm reduction print.
We enjoyed this Talmadge comedy and recommend this edition to all.
| | |
| --- | --- |
| USA: Click the logomark to purchase this Region 0 NTSC DVD-R edition from Amazon.com. Your purchase supports the Silent Era website. | |