Reviews of silent film releases on home video.
Copyright © 1999-2018 by Carl Bennett
and the Silent Era Company.
All Rights Reserved.

Richard III
(1912)

The recovery of a long-lost film is always a cause for celebration among film historians, archivists and fans but in 1996 a special and loud hurrah went up over the recovery of the oldest surviving complete American feature film, Richard III (1912). Film collector William Buffum from Portland, Oregon, turned over to the American Film Institute a complete print that he'd been caring for since the early 1960s (also donated was the 1919 Lon Chaney short When Bearcat Went Dry).

Richard III, released in October 1912, was not the first American feature film. The five-reel Oliver Twist (1912), released in May, is the earliest known American feature film but survives in an incomplete print. The French-American production Queen Elizabeth (1912) was released in July in four reels.

Filmed in New York in Westchester County and on City Island near the Bronx, Richard III is an extraordinary production for 1912. While production values had been rising for several years, all one has to do is compare the film to the British two-reel Richard III of 1911, shot entirely on a stage with painted flats (complete with studio floorboards visible in the foreground), to see how special Richard III (1912) truly is. And while the Richard III at hand has its share of painted flats for settings, the film is well mounted. A large number of extras and the location photography add immensely to the realism of the film.

Long associated with the role of Richard, retired stage actor Frederick Warde returned to walk in Gloucester's boots once again. And Warde's Richard is all knees when he walks. Frederick Warde, as a seasoned stage actor, admittedly could not perform the role for the mute camera without delivering lines of spoken dialog. As to the character of Richard, he has always been a conniving son-of-a-bitch. And to Warde's credit, his inexperience as a film actor is no hinderence to his projecting successfully to an audience the evil nature of Richard.

The film itself does as much justice to the play as could be expected of a silent film. The producers of the film resisted the temptation to place long exerpts of dialog in intertitles. Instead, the actors are allowed to pantomine as they deliver spoken lines, evoking in our mind's ear echoes of Shakespearean verse. The film still plays well and should remain pleasing over multiple viewings. — Carl Bennett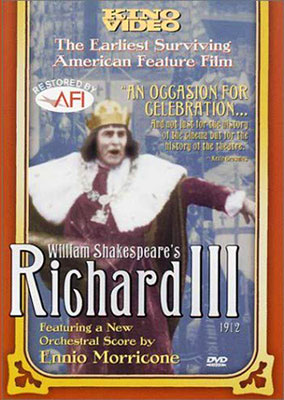 Kino on Video
2001 DVD edition

Richard III (1912), color-tinted black & white, 59 minutes, not rated.

Kino International, K180, UPC 7-38329-01802-3.
One single-sided, single-layered, Region 0 NTSC DVD disc, 1.33:1 aspect ratio image in full-frame 4:3 (720 x 480 pixels) interlaced scan MPEG-2 format, 5 Mbps average video bit rate, 192 kbps audio bit rate, Dolby Digital 2.0 stereo sound, English language intertitles, no foreign language subtitles, 16 chapter stops; standard DVD keepcase, $29.95.
Release date: 26 June 2001.
Country of origin: USA

Ratings (1-10): video: 8 / audio: 9 / additional content: 6 / overall: 8.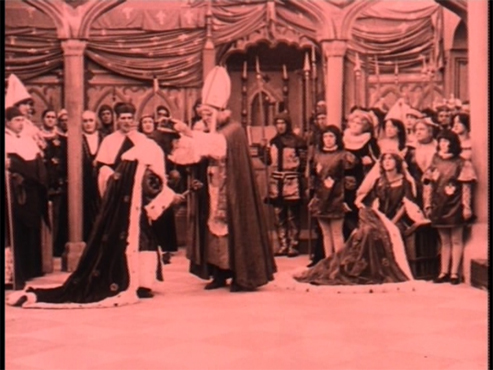 When AFI set about preserving Richard III, their sense of occasion was not lost on the film. The great film music composer Ennio Morricone was commissioned to score the restoration print of Richard III. And he did not disappoint. From the opening moments of Morricone's four-plus-minute prologue, you know you're in for something special. Morricone's rich music is a delicious main course to be feasted upon and savored over the passage of an hour.
The print has survived in wonderful condition. The film has a little print damage, dust and speckling, as would be expected for a print 84 years old at restoration, but generally a broad range of greytones and excellent image detail are characteristic of this print. The film was entirely color-tinted. At times, there are the beginnings of emulsion disintegration in shots tinted in a pale yellow. The video transfer does the print justice. The greytones and image detail are all excellently reproduced, and the color tints are never oversaturated. The image framing is generous and does not interfere with type in the intertitles. The DVD is a pleasure to watch.
A rarity on silent film DVDs, this disc features well-designed motion graphics for the main menu.
Rediscovering Richard, a 17-minute documentary produced by Bret Wood on the recovery of the film, includes an interview with William Buffum, the film collector who has owned and preserved Richard III since trading for the film with collector Clifford Beckwith in the early 1960s. One electrifying moment in the documentary happens when, while comparing a scene from Laurence Olivier's Richard III (1955) to the 1912 version, a cross-fade from the modern version to the silent results in a lip-syncing to Warde's performance the end of Olivier's line of dialog.
Due largely to its historical importance and no less due to its entertainment value, we highly recommend this well-produced home video edition of Richard III.
USA: Click the logomark to purchase this Region 0 NTSC DVD edition from Amazon.com. Your purchase supports the Silent Era website.
Canada: Click the logomark to purchase this Region 0 NTSC DVD edition from Amazon.ca. Your purchase supports the Silent Era website.
This Region 0 NTSC DVD edition is also available directly from KINO LORBER.