Reviews of silent film releases on home video.
Copyright © 1999-2019 by Carl Bennett
and the Silent Era Company.
All Rights Reserved.
Sweet Memories
(1911)
Mary Pickford stars in one of her few surviving IMP films from 1911, a historical romance drama with intertitles composed of stanzas from a poem.
All much ado about nothing, including an inexplicable and unintentially comical sword duel. One can clearly see why, if this film is representative, Pickford wanted out of her IMP contract. — Carl Bennett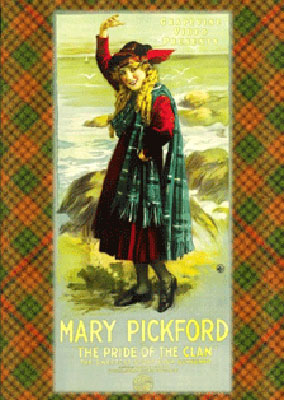 Grapevine Video
2004 DVD edition

The Pride of the Clan (1917), black & white, 86 minutes, not rated,
with Sweet Memories (1911), black & white, 12 minutes, not rated.

Grapevine Video, no catalog number, UPC 8-48614-10050-5.
One single-sided, single-layered, Region 0 NTSC DVD-R disc, 1.33:1 aspect ratio image in full-frame 4:3 (720 x 480 pixels) interlaced scan MPEG-2 format, 5 Mbps average video bit rate, 224 kbps audio bit rate, Dolby Digital 2.0 stereo sound, English language intertitles, no foreign language subtitles, no chapter stops; standard DVD keepcase, $14.95.
Release date: 2004.
Country of origin: USA

Ratings (1-10): video: 3 / audio: 4 / additional content: 5 / overall: 4.
This DVD-R edition has been mastered from a fair 16mm reduction print that is soft of image detail and contrasty, with deep, plugged-up shadows, which makes the actors almost unrecognizable.
The film is presented with a music score performed on electric organ.
This edition is hard to watch, with its blurry, dark picture. The film survives in 35mm nitrate prints in the Library of Congress; we hope that some day a quality home video edition can be mastered from those materials.
This Region 0 NTSC DVD-R edition is available directly from GRAPEVINE VIDEO.